Case Study Snapshot:
Company: ATS Heritage
Profile: Creating digital and multimedia content for heritage and cultural sites
Size: 11-50 employees
Project vertical: Culture and Heritage, Training
Challenge: Move to open flexible platform that ATS could fully control
Solution: Custom Android device development; Wi-Fi Bluetooth synchronisation; i.MX6 DualLite
Services: Electronic board design, firmware development
Impact: Rollout own device; longevity of product guaranteed; now available in the UK
Background
ATS is an innovative producer of multimedia tour guides and apps for leading UK heritage and cultural sites such as St Paul's Cathedral, Bletchley Park, National
Portrait Gallery, The View from the Shard, National Trust and English Heritage. With a talented team, including producers, editors and software developers, ATS wanted to future proof its business by moving to an open and flexible platform that provided long battery life and the ability to easily add new features.
ATS enlisted ByteSnap Design following a rigorous tender process, as the company needed to work with experts in both electronics design and software on embedded Android platforms. ByteSnap's engineering teams have been recognised as going the extra mile, being knowledgeable and with strong technical expertise – specifically in the delivery of Android-based projects.
As ATS grew, scaling up its existing device was not an option. The company's exploration of new business models also required a bespoke solution, where ATS could keep the IP and have real control over specification, without having to compromise.
ATS was looking for a device with the right form factor, rugged and attractive, while being secure from theft. Features for the new multimedia device included a 1280 x 720 screen size, power saving, all day charge and a synchronisation system for projected images.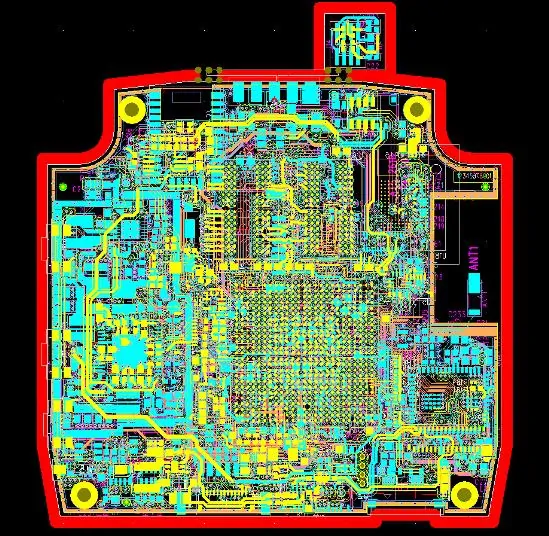 Challenge
The client wanted to keep as much of the project within the UK as possible to ensure ease of communication and tight control around design.
ATS' existing platform was adopted as it offered a vehicle for the creative content its team was developing. However, the platform was becoming more restrictive for developers, did not have a public technology roadmap and was expensive in terms of battery changes.
The new design needed to overcome existing and new challenges:
Both touch screen and a keypad versions required development
Space for a PCB was limited due to the size of the unit – 160 mm x 79 mm x 18 mm, weighing 214 grams
Size restrictions meant that packing significant hardware onto the PCBs required careful consideration
Device had to meet demanding power saving and battery-life targets at a commercial price point
ATS had selected a UK-based mechanical design consultancy and working with this consultancy was critical to the success of the project, with designers who appreciated not just their own core skills but had broad understanding of all product aspects.
Solution
ByteSnap Design was engaged after a competitive tender as it offered a dedicated team of specialists, and provided creative solutions to a number of challenges.
To accelerate product development, ByteSnap appointed a specialist technical project manager, supported by a team including a hardware engineer and Android BSP specialist.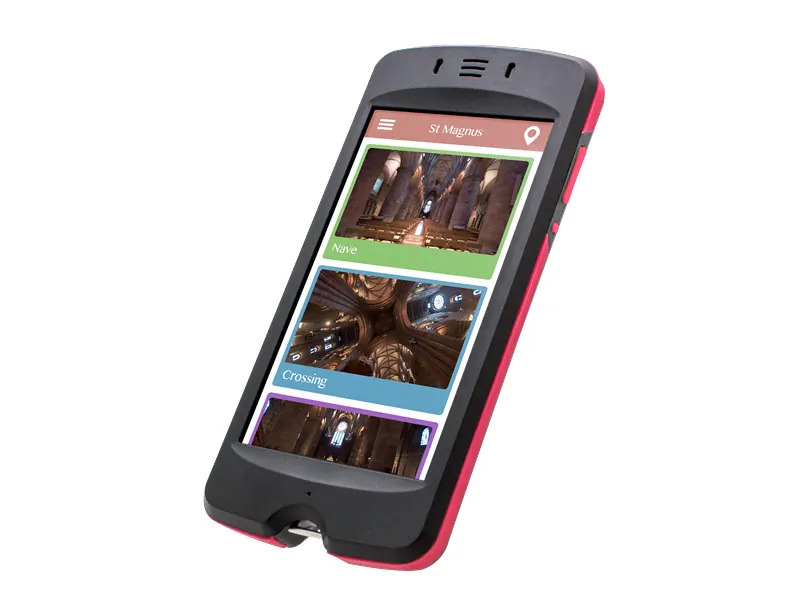 Custom Android device
ByteSnap was responsible for schematic design, PCB development, and worked closely with the mechanical design consultancy to deliver an optimum layout where mechanical and electronic design needs were balanced and the camera, buttons and PCB were optimally placed.
To de-risk the project and improve development timescales, ByteSnap ported Android to a standard development platform and tested the performance on single and dual-core variants of the chosen CPU.
Other risk items for the custom Android device such as battery lifetime analysis and test of audio synchronisation using Wi-Fi were also tested on this platform before committing to the custom PCB.
Complex, multi-layered board
A complex multi-layered board was necessary due to size limitations, especially with a large battery. The ByteSnap team developed a prototype based on the NXP i.MX6.
This System on Chip (SoC) was selected for its performance and longevity, with manufacturer NXP guaranteeing to produce its core components for 10 years.
As ATS wanted two versions of the device, touchscreen and keypad, ByteSnap incorporated two display connectors, ensuring that the screen can be changed easily in the future.
For the battery to last an entire day and be chargeable overnight, ByteSnap calculated power usage, and devised innovative methods of reducing power, such as speeding up boot time, and using an accelerometer to track device movement, and only turn on the screen when a device is picked up.
Feasibility Reasearch Study, Audio Synchronisation System
A detailed feasibility research study was carried out by ByteSnap in order resolve issues with audio syncing over Wi-Fi.  As a result, through the use of a Bluetooth beacon, an audio synchronisation system was incorporated into the device. When entering a room, the device is able to detect language preferences and synchronise audio with any film playing. Pulses are synchronised via Wi-Fi, and as a very low amount of data is transmitted, energy is saved. Crucially, the device can also operate in an environment with a high level of Wi-Fi traffic.
Additionally, Bluetooth low energy was used for theft prevention, with an alarm triggered on the device when an in-built sensor enters an out-of-bounds area.
Technical support teams have also benefitted. Previously, batteries needed to be changed every two years by the device manufactures' internal teams. Now the ATS' team can change batteries quickly, resulting in a saving of up to £43 per device every two years. Loading data was also time-consuming. Today, pre-loaded SD cards provide additional memory.
There are features within Android that are standard, however are unnecessary for visitors: ByteSnap deactivated these features.
While the design work was carried out in the UK, CE testing took place in Taiwan. To ensure that the design went through the compliance process quickly, ByteSnap managed UK based CE testing prior to submission.
Throughout the project, ByteSnap's technical manager guided and advised ATS.
Benefits
With positive feedback from visitors to the Museum on Heritage Show, trials at St Paul's Cathedral proving successful and 1,600 devices due to be rolled out at Westminster Cathedral in October 2017, ATS says there have been several advantages to working with ByteSnap Design to develop their custom Android device – particularly that ATS:
Now has a device where ATS has control over its key platform
Is more able to create tours that wouldn't be possible on off-the-shelf alternatives
Has an option to sell device to third parties
Had close collaboration with a hands on, flexible and experienced team ensured smooth project progress
Has an open source solution (Android) to ensure longevity of supply and predictable price point
Has a solution with a strong feature set to help ATS to win new business