ChargePoint Services asked ByteSnap to develop new electronics and software for GE's EV charging posts to meet LOCOG's requirements for the Summer 2012 Games. Beyond the Games, the posts (and variants) would be marketed to organisations wishing to install charging posts on their premises in the UK and abroad.
EV charging post design challenge: rapid rework of existing charging posts
Reliability was critical: during the Olympics, these charging posts will be among the most heavily used charging posts in Europe, powering the fleet transporting athletes and officials between venues – failure of the posts or post control systems could be extremely embarrassing.
The EV charging market is complex: vehicle manufacturers use different specifications and buyers typically want posts to be customised. The posts had to be (functionally) flexible, capable of being installed in a variety of usage scenarios and competitively priced. We redesigned the post internals, adding control and metering software and hardware – significantly enhancing the post's capabilities. In effect, we created a platform that can be customised rapidly and which is competitive in markets that the original post did not target (e.g. Europe).
The enhanced posts are designed for high-reliability, long-term operation and low-cost production. The new posts maintain the robust IP67 ingress-proof mechanics of the originals while adding features including:
Metering and charge control built into the post
Remote, centralised management and billing
GPRS or Ethernet backhaul to management system
Fail-over for GPRS network, allows charging of authorised vehicles even after GPRS network failure
ZMM-01 Zigbee metering and control module critical to new EV charging post design
Time-to-market was critical for this project, so we selected an off-the-shelf ARM-based TX25 module from Direct Insight, and our own ZMM-01 Zigbee metering and control module, these selections helped reduce development time while also reducing the cost of the parts.
Design flexibility: using a Windows CE controller instead of microcontroller
The original EV charging posts used a separate PC (linked by a cable) that checked if vehicles were authorised to charge. We needed to find a way to add functions quickly (to meet LOCOG deadlines) while retaining flexibility to meet future requirements for post-Olympics markets.
We replaced the entire PC-based control system with a single Windows CE based controller, eliminating the need for separate control system wiring when posts are installed. We also added metering, an antenna and networking (via GPRS or Ethernet) to the posts.
Rejecting a traditional dedicated microcontroller solution gave us flexibility, allowing us to respond quickly to changes in customer requirements while delivering rapidly and at lower cost than a more traditional approach. Enhancements facilitated by this flexible EV charging post design included support for three-phase power and charging multiple vehicles from one post.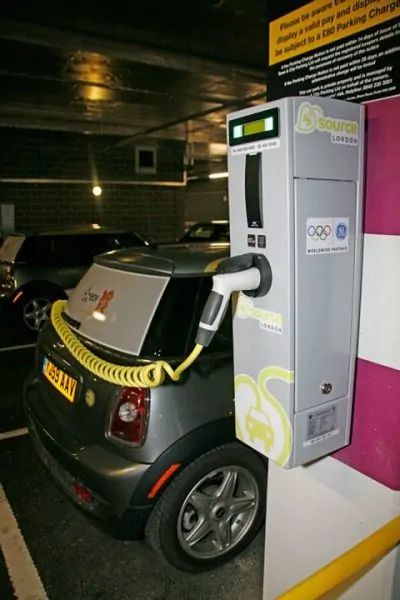 Results
Our new control system solution for the posts was not only more economical than the original; it also included major new features (metering, GPRS and Ethernet backhaul to a management system and functional flexibility).