ByteSnap Finalists at Electric Vehicle Innovation & Excellence Awards 2020
We're excited to announce ByteSnap Design as a finalist for this year's Electric Vehicle Innovation & Excellence Awards (EVIEs), where we've been shortlisted in the 'Innovation in V2G' category.
We were nominated for the work on our Vehicle 2 Grid Intelligent Control (VIGIL) project, an innovate UK funded consortium consisting of ByteSnap Design, Aston University, Grid Edge and Nortech Management.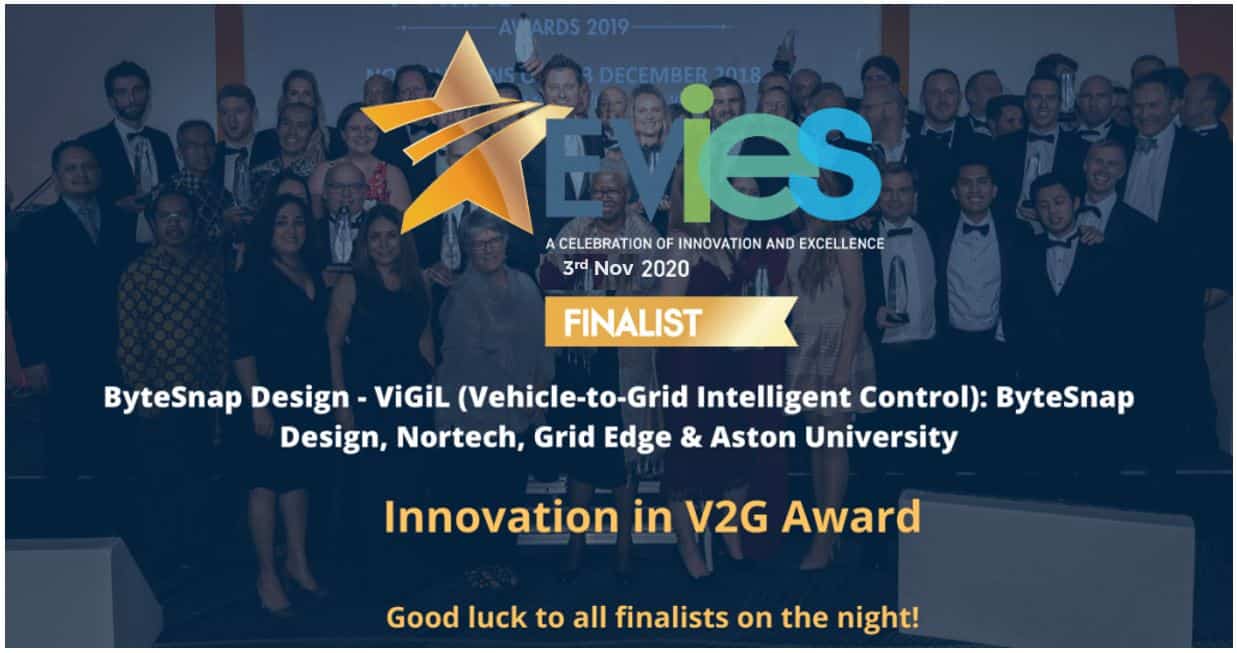 The EVIEs is a UK leading award which champions companies that are pioneering in the emerging EV sector, to build a better, smarter and cleaner future.
ByteSnap Director Dunstan Power said: "It's great that the EVIEs have recognised the innovative work that we have carried out on the ViGiL V2G project. We've seen a lot of demand for our EV related expertise and 2020 should be an exciting year for the EV sector."
Matt Wallhead, Everything EV portfolio director at Solar Media, said: "Unrivalled Innovation and the creation of new partnerships are vital ingredients in the decarbonisation of road transport."
"With giant steps being made across industry and government, we feel the time is right to shine a light on the most progressive and innovative individuals and organisations who are truly breaking new ground and making the era of EV a reality. The EVIEs will be a true celebration of these trailblazers and a night not to be missed."
The winners will be announced at an awards event in Bristol on November 3rd.
You can find out more about ByteSnap's EV charging point solutions and expertise here.
How can ByteSnap help you today?
From start-ups to blue chips, ByteSnap's embedded systems software developers & electronic design engineers are enabling companies to stay a step ahead by providing them with bespoke solutions. Maintain your competitive edge – contact us today and let your business be among them!