Join ByteSnap at Stand H52 at EDS 2022
Our redesign service and EV charger technology will be showcased by ByteSnap's embedded systems consultants at the hotly-anticipated Engineering Design Show, EDS 2022, this October.
Join us in Coventry at the UK's biggest show for engineering, electronics and embedded design. It's an opportunity to access to not only ByteSnap's latest on services and innovations, but also workshops on industry trends and best practice.
The show takes place 12-13 October at Coventry Building Society Arena.
ByteSnap Stand Highlights at EDS 22
Need help with electronic redesign projects?
At ByteSnap, we are experts at embedded electronics redesign. We provide a fast turnaround, while empowering our clients to maintain control and flexibility. We can support your team throughout your product redesign.
Our representatives will be on stand to talk about our redesign service. Find out more about our redesign service >>
View our EV charger dev kit and white label app demo
Test our popular EV charger development kit – it's used by charge point manufacturers across the world as a prototype electric vehicle charger station, to help de-risk projects.
The development kit allows you to set up the software and your connection to your chosen OCPP back-end provider. This takes you several steps closer to creating your own complete charger, optimising project time and costs in the process.
Also on stand will be our white label app product for charging systems – available to both charger installers for locating EV charge points to set-up in the field, and to EV charger users for managing personal charger metrics (including eco load balancing modes and smart charging time settings).
/wp-content/uploads/2022/09/Dev-Kit-Mock-Up.png[/fusion_imageframe]
Take a look at our EV charging simulation
On the stand we will be using our AC Charge Controller board and Digi's CC8M-Mini board for the user experience and connectivity platform.
The system can be seen functioning using independent EV Testing equipment to simulate the car and move between the different states of charging a car; ready to charge, charging and notifying the user of an error.
ByteSnap's EDS 22 Talk
Come along to our talk: Why Projects Fail and How to Fix Them
ByteSnap Design's Director, Dunstan Power, will be giving a talk on 'Why Projects Fail and How to Fix Them'
Getting a new product to market can be one of the most fulfilling and profitable things a company can do. A business can be built around it and whole industries launched. Apple and Hewlett Packard are amongst many that grew from start-ups into global corporations.
However, most start-up-based product ideas never get to market. Why is that?
In this presentation, ByteSnap Director Dunstan Power covers several failure points for new product introduction, including:
– Over-engineering
– Black Swans
– Tail Wagging the Dog (Not choosing the right components)
– Magic Ship Syndrome
and the best ways to avoid these pitfalls.
Come a long and have a listen on Wed 12th October at 3.15pm.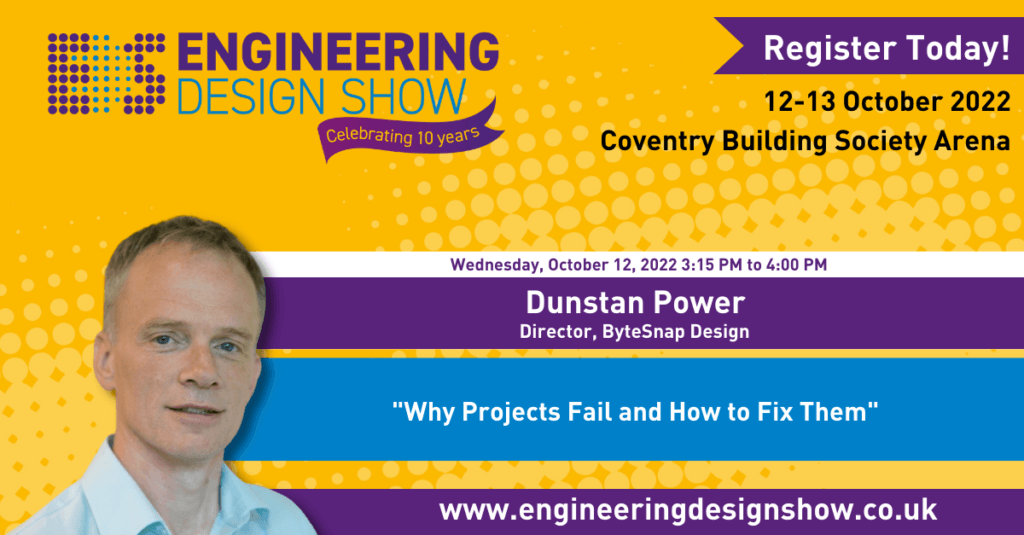 EDS 2022 – what's in it for you?
The Engineering Design Show is the UK's leading engineering, electronics and embedded design event, generally attracting over 3,000 visitors. Organisers say design engineers benefit from direct access to the latest products, services and innovations.
Register for the Engineering Design Show – it's free
Talk to our experts on Stand H52 and learn how they can help you navigate the current chip shortage, optimise your product design and accelerate your route to market.
Get your ticket now – and we'll see you on Stand H52 at EDS 2022!