How to Manage Component Obsolescence
Obsolescence is a dirty word for most engineers. A successful, reliable product can be suddenly rendered unmanufacturable by a single component going End Of Life (EOL), or a new design hasn't even gone into production and one of the chips has been pulled by the manufacturer. Sometimes it is ICs, sometimes connectors or passives. Any component will have a finite longevity and even the smallest, cheapest, most seemingly insignificant part can jeopardise production of a whole product line.
Here's a roundup of the typical product cycle of a component is (different terms are used by different suppliers). Most mainline semiconductor manufacturers are very good now at labelling where their parts are on this list.
Marketing
Preproduction / Beta / Sampling
General Availability (GA) / Active
Not recommended for New designs (NRD)
End of Life (EoL)
Obsolete
Marketing
The marketing brief has been posted but you can't get it for love nor money, nor even the data sheet. Perhaps you can get on an alpha program, but do you need this pain as you will be helping to qualify the part? Dates for GA are written in sand at this stage; beware – lest they slip affecting your own schedule.
Preproduction / Beta
It's that hot, new part your engineers want to use, but you can only get samples and perhaps need to be on a beta program to get these. Again, you will probably find some TBDs in the data sheet, or discover it's watermarked with "Draft". GA dates should be more solid now and the part is "safe" to use. That said ocassionaly, parts don't ever go from Beta to GA as technical snags are discovered.
General Availability (GA) / Active
The part is in full production. However, the question may be – how far through GA is it? Is it relatively new or near to NRD?
Looking at the dates on the data sheet will help. At this point, errata and apps notes may be available which can be very useful.
Not recommended for New designs (NRD)
As the label says, don't use it unless you have a very specific need or a small production run. Time to look at last time buy options. Beware of the grey market.
End of Life (EoL)
May be rolled into the NRD stage. Last time buy time.
Obsolete
You missed the last time buy and specialist suppliers are finding pockets of them at the back of dusty warehouses around the world. They may even be genuine.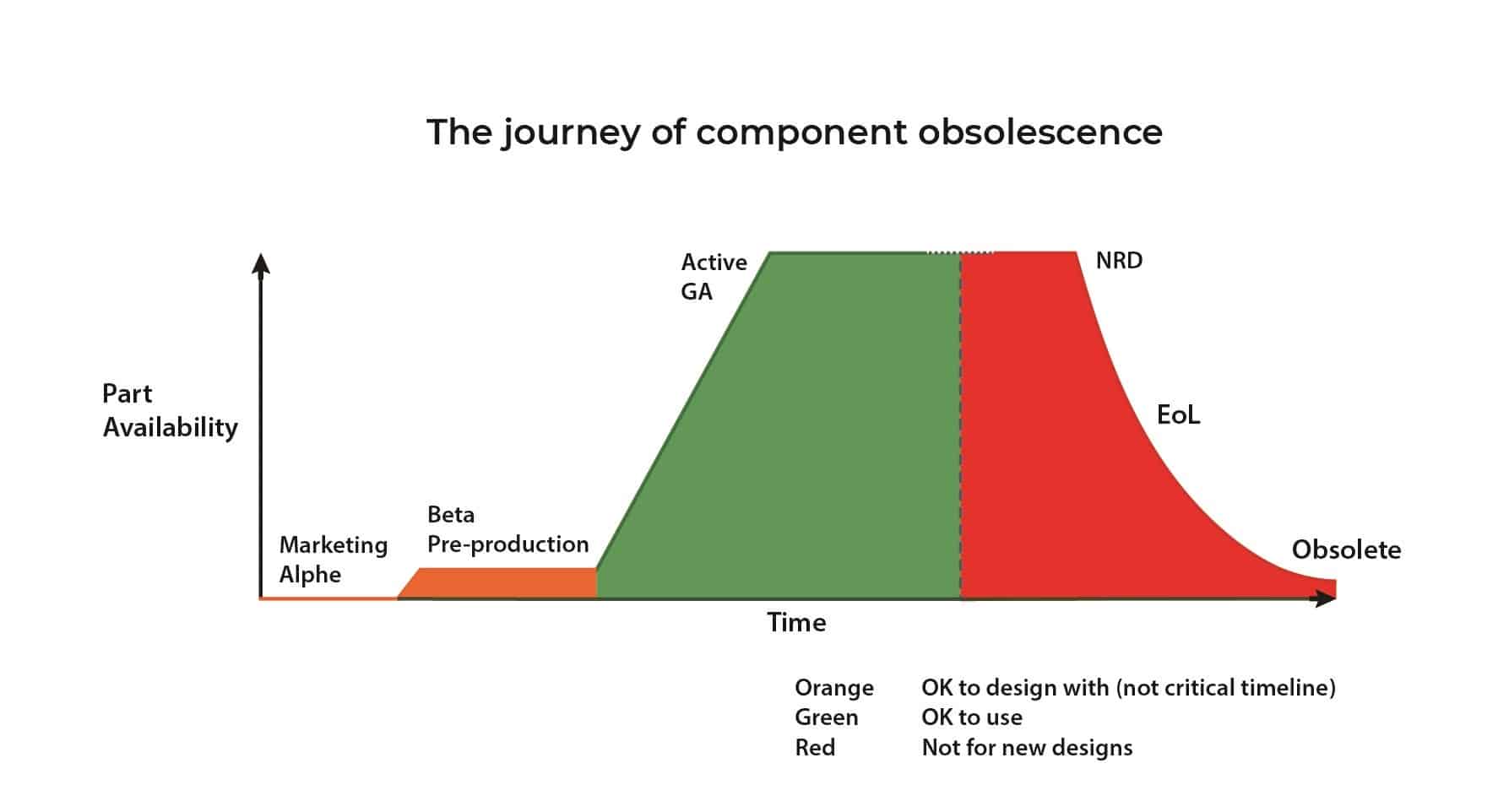 Why do components go obsolete and what can I do about it?
It is worth understanding the rationale for obsolescence, as it can affect the initial choice of parts and the route taken to replace the parts. There are a number of reasons:
Declining sales of the product make its continued production uneconomic for the manufacturer.
Acquisition or merger of companies results in rationalising of product lines.
Technology changes (e.g. Fab geometry) mean that the means of production is no longer available.
Regulatory changes e.g. RoHS
Sub-components go obsolete (e.g. telephony modems have their chip-set obsoleted).
In most cases, you – the user – has no influence over any of these factors unless you yourselves are a large user of the part. However, when selecting components it is worth considering the likelihood of any of these events taking place. A good example is with LCD panels, where they are often made with a specific market in mind and, perhaps, a single customer. When that customer obsoletes their product and is no longer buying the product, factor 1) applies and all the other minority customers will see the panel suddenly go EoL.
So what can you do about this?
Well, when selecting parts, it has to be said that not all suppliers are equal with regards to longevity. Some, like NXP and ST, publish longevity plans on their core processors, allowing you to clearly see how long their parts will be available for.
But beware!
Just because the processor has a 15 year longevity doesn't mean the memory chips in the system have longevity to match. In fact, this is highly unlikely. Therefore, in this case it is merely that the processor can be confirmed as unlikely to be the part that calls time on your product. Other semiconductor manufacturers can be much more focussed on fast-moving consumer goods and frequently obsolete parts.
With LCDs, there is an element that you get what you pay for. Typically, the cheapest LCDs are tied to other consumer products and will have a short shelf life. Not a problem if your own product longevity is a couple of years – but if it is longer, some defensive design around the LCD interface may be required (e.g. the ability to add in conversion boards to other panels).
For connectors and passives, you can't beat designing in generic parts or multisourced options. Where this isn't possible, again some companies are more, shall we say "agile", than others. It's worth asking the suppliers the question on key parts as you may get an honest answer.
So my component is obsolete – what do I do now?
Normally, a supplier will offer a last time buy on components they are planning to obsolete a part. You can sometimes sign up for email updates on a part to alert you of status changes. Well worth doing as it's free and could save a big headache. Likewise, some of the catalogue distributors (e.g. Farnell) also send out product alerts when part statuses change.
Let's assume though that you have now hit the buffers and you know you are going to have to sort the problem out. What options do you have?
1. Find a drop in alternative
It may be that there is an alternative that is pin compatible. Perhaps one that didn't exist when the design was done. If there are enough other people in the same boat, that latent demand can help alternatives to appear. Be inventive in how you look, as sometimes parts that are the same are categorised differently by various manufacturers.
2. Scrap your product
Maybe your own product is also heading towards the exit door. You may have an alternative that can do most of what the terminally ill product can do. This is a business decision outside of the scope of this article.
3. Modify your circuit board
If the product is selling well, a re-design may be a no-brainer. You are likely to face these costs:
Redesign effort of the schematics, BOM and PCB
Prototype run to test non-trivial changes
Software changes (depending on what component is changing)
4. Compliance re-testing where appropriate (e.g. probably not for a connector change but for a new microcontroller)
This is the time to do a complete sweep of the whole Bill of Materials to look for any of those NRD labels indicating that other parts whilst not EOL are nearing their own obsolescence. Like the road being dug up by the gas men, just after the same stretch has been newly laid by the water works, you don't want to launch your revised product just to find another problem.
There can be in-between solutions, such as making daughter boards that replace a single component on a circuit board, or sit between one PCB and an LCD and convert the signals for a new panel. Thus, the development cost is much lower than for a full re-design.
If you do a full-redesign, this gives you an opportunity to perhaps get some cost out of the product or to add new features. Seize the moment and it will make the procedure less depressing!
It could even turn a good product into one that is great.
How can ByteSnap help you today?
From start-ups to blue chips, ByteSnap's embedded systems developers are enabling companies to stay a step ahead by providing them with bespoke solutions. Maintain your competitive edge – contact us today and find out how we can optimise your product development!