Survey: Biggest challenges faced by electronic design businesses into 2020
As an embedded systems consultancy we wanted to understand what fellow electronic design businesses expected of the future. While exhibiting and presenting at the Engineering Design Show (EDS) recently we interviewed show visitors and asked what they felt their greatest challenges were.
We questioned executives from electronics companies and gained some very valuable and specific insights into the constraints facing the industry today and into the next decade.
Survey snapshot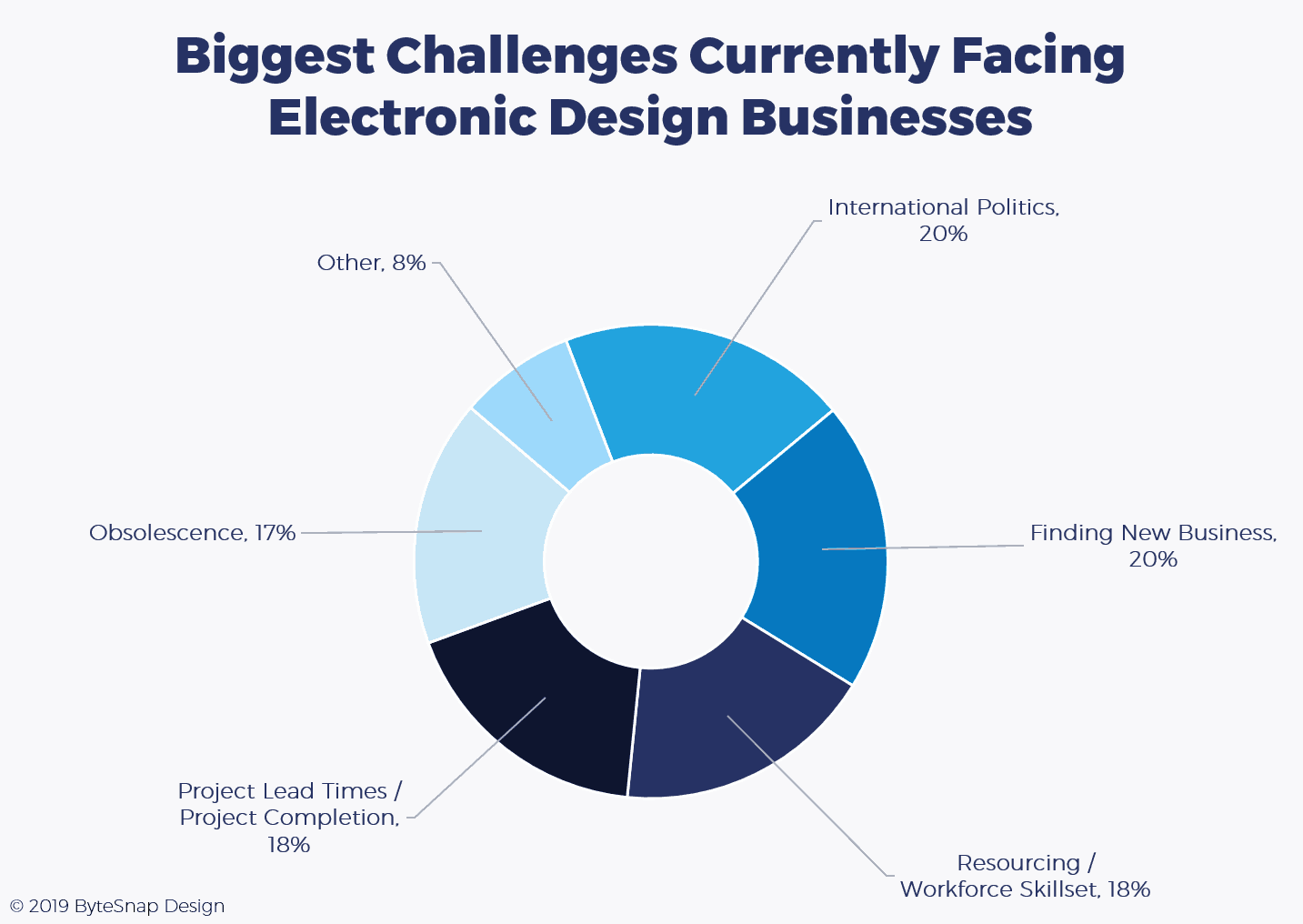 20% of respondents said their biggest challenge is political uncertainty, especially Brexit
20% feel that finding new business was a key concern
18% said that finding the right talent and skillsets was a challenge for their organisation
18% cited meeting project lead times as critical
17% were concerned about obsolete technology
Let's look some of these challenges and how they affect the electronic design industry in more detail.
Brexit is affecting key decisions
Brexit was the biggest challenge cited by 20% respondents. The UK's potential exit from the European Union has a trove of implications for electronic design companies. Brexit may or may not happen. If the UK leaves the EU, many of our respondents are concerned about how UK and European companies will continue to do business.
There is uncertainty over what tariffs and taxes will continue to apply to UK companies when it is no longer part of the EU free trade area. Companies don't know if they can continue to employ or hire European workers. Some grants and exemptions may be affected. Transport and logistics may be impacted, and licensing and regulations certainly will, but how is yet to be decided. Take the European Union's new Radio Equipment Directive (RED), how will this apply post-Brexit and what will the impact be?
The offshoot of this uncertainty is that many businesses in the UK and Europe and operating a "wait and see" approach. They are unwilling to commit to new projects and award new contracts that may be impacted by Brexit. In the worst cases, component buyers are looking away from the UK and even Europe, to avoid having to change agreements in a post-Brexit future.
Finding new business is a major concern for electronics firms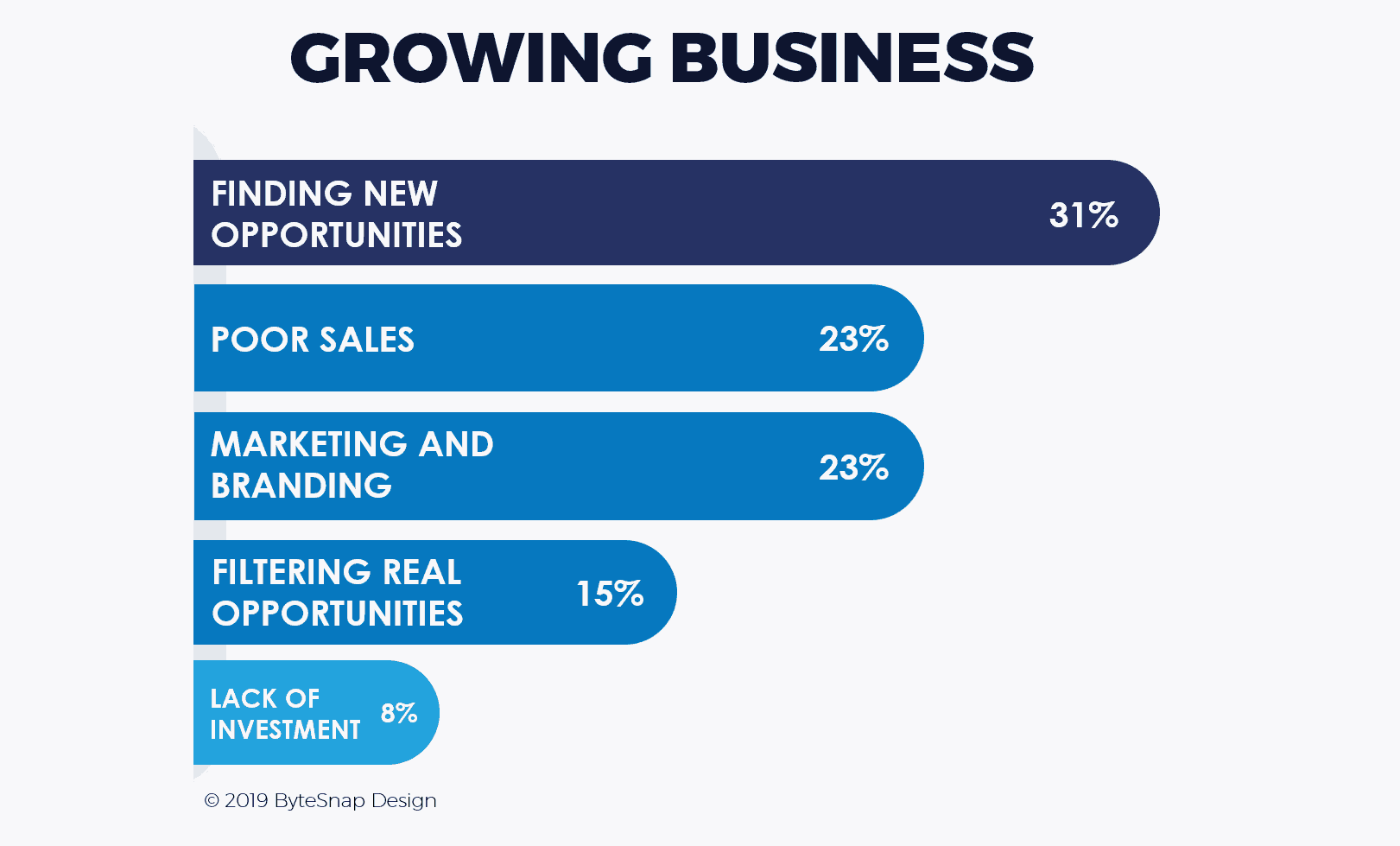 With Brexit impacting buyer's decisions, 20% of electronics professionals cite that finding new business and retaining existing clients is even more challenging than normal.
Electronics companies who said finding new business was a challenge were divided on the more specific reasons. More were concerned about finding enough opportunities to increase revenue and achieve growth. Others were concerned about moving into new verticals, filtering real opportunities, and offering products and services to tie into new trends and technologies.
Fortunately, the electronics sector is still growing apace, driven by consumer and industrial demand, and the need to deliver emerging technologies to market such as IoT devices and electric vehicles. The right opportunities do exist. As per Investopedia, the global market for electronic components used in projects is predicted to grow by around 5.6% between 2019 and 2024.
Recruiting and retaining the right electronics team is vital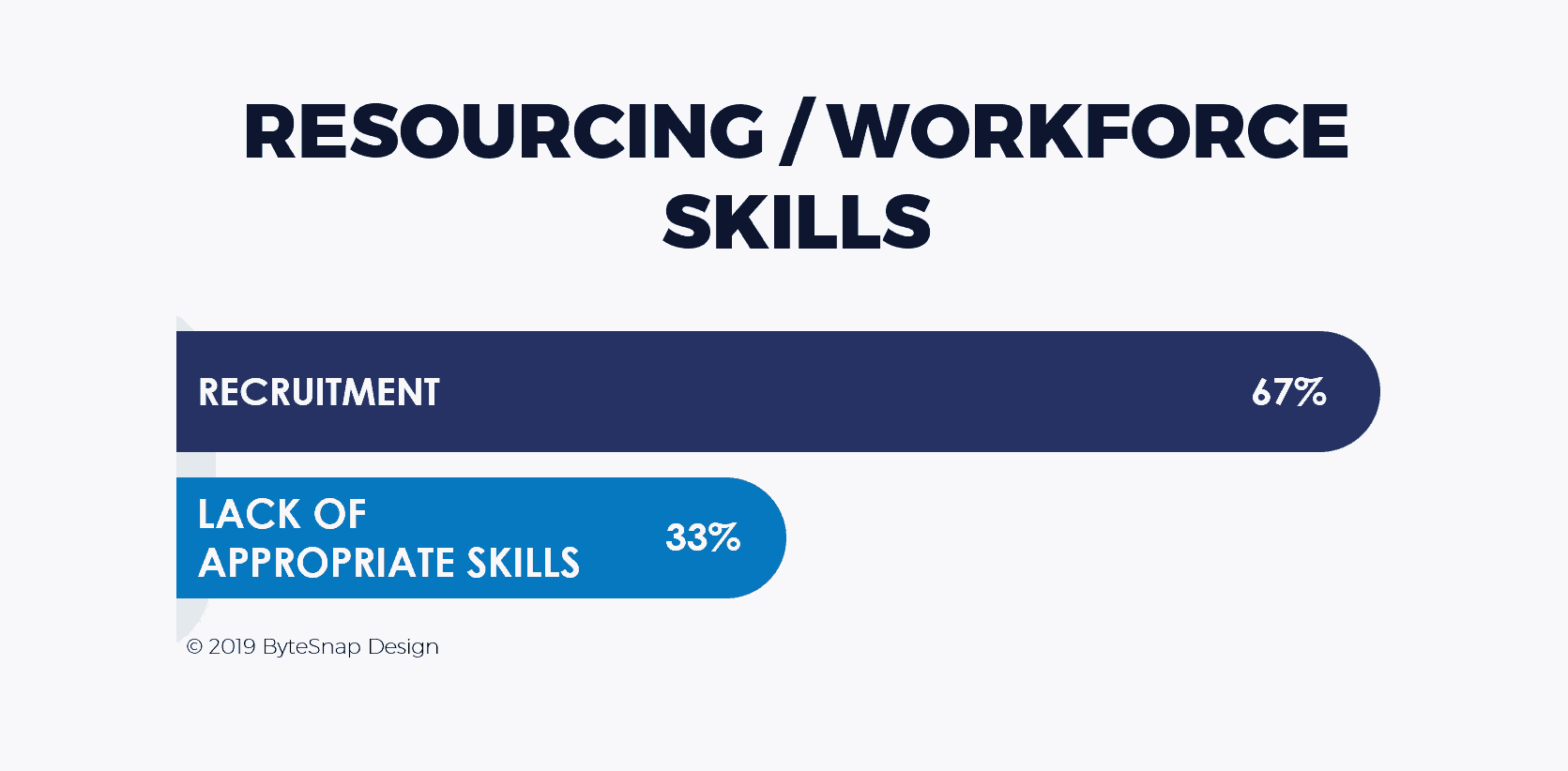 Without the right skill base a company cannot deliver its promised products or services and the sales effort is in vain, with 18% citing people as a major challenge. By far the greatest concern out of human resource challenges for the electronics sector appears to be recruiting new hires. A lack of appropriate skills and an understanding of embedded technology are also issues for our industry peers.
The Institute for Supply Management (IPC) recently found that a shortage of skilled workers is the electronic industry's biggest concern. Positively, as per EBN, it has planned at least 500,000 training opportunities across the EU in the next five years.
However, sales and recruitment strategies are company specific and interdependent. Careful planning as well as a business strategy that focuses on quality product delivery and an employee recompense program that is sufficient for attracting and retaining the right talent is critical.
Delivering electronics projects on time and on budget
18% of respondents cited pressure from clients to deliver projects quickly, citing lead times as a concern. The electronics industry is growing, competition is fierce, and the sales effort requires commitment to delivering contracts and projects on time.
Business can be won or lost based on project timescales and often there are penalties for late delivery, this combination makes lead times and completing on schedule a challenge. In with this, is the pressure to ensure third-party component suppliers also deliver in time for manufacture.
In terms of budget concerns, respondents also recognised that in Europe the electronics industry also faces competition from China and Eastern Europe where labour costs and sometimes components are cheaper, and companies can promise lower prices.
There were also anxieties around economics of scale, especially around manufacturing costs of small runs.
Obsolete technology – electronic components and embedded operating systems
17% of electronics professionals were concerned about technology developments, including component obsolescence as it can render an entire product very difficult to sell and leave a business with hefty research and development, design and marketing costs, and even manufacturing investment costs, with no avenue for return on investment.
Even a successful product line may have to be swiftly cut should one component reach End of Life (EOL) or a marketed component design never reaches fruition. Obsolescence is difficult to manage and often unavoidable leaving it a challenge that will remain for the electronic design industry.
There are strategies to follow to combat obsolescence, we look at this problem and potential solutions here. The first priority is to assess the stage of each parts availability and to try and include parts in a design which have good general availability. Parts that aren't too early or too late in their potential life cycle.
It's not just component obsolescence that brings technology challenges, respondents also cited the need to keep on top of programming developments, emerging technologies like AI which disrupts industries as well as providing new opportunities and having the technical knowledge to design smaller and smaller products.
Facing challenges head-on
No business is an island, and no company is without challenges. Brexit will impact the electronics industry, skill shortages will persist, component obsolescence will always be with us and the sales effort must go on.
Our snapshot of industry challenges taken away from EDS can help all industry participants understand current threats and constraints and create a strategy to overcome these problems. As with us here at ByteSnap, a positive, informed, approach must drive a business in an unfaltering commitment to success, whilst it operates to the best of its ability.
The EDS event was held on 16 – 17 October 2019.
How can ByteSnap help you today?
From start-ups to blue chips, ByteSnap's embedded systems software developers are enabling companies to stay a step ahead by providing them with bespoke solutions. Maintain your competitive edge – contact us today and let your business be among them!