Case Study Snapshot
Company: Bouncepad
Profile: Consumer-friendly technology solutions built for the enterprise
Project Vertical: Retail
Challenge: Design a premium, elegant yet secure, dock 'n' charge tablet system
Solution: Electro-mechanical development; RFID design
Impact: Introduce Luna, a secure dock 'n' charge tablet system, to the market; now available for purchase at leading retailers
Background
Bouncepad invented the tablet kiosk in 2011 to help businesses securely use tablets as commercial tools in retail stores, airports, hotels and restaurants. Since, the company has shipped its products to more than 45 countries, working on projects with brands like Adidas, British Airways, Clinique, McDonald's, Virgin and Visa, among others. In 2015, Bouncepad developed a more agile and sophisticated product, designed for mobile use cases like assisted selling, clienteling and mobile POS.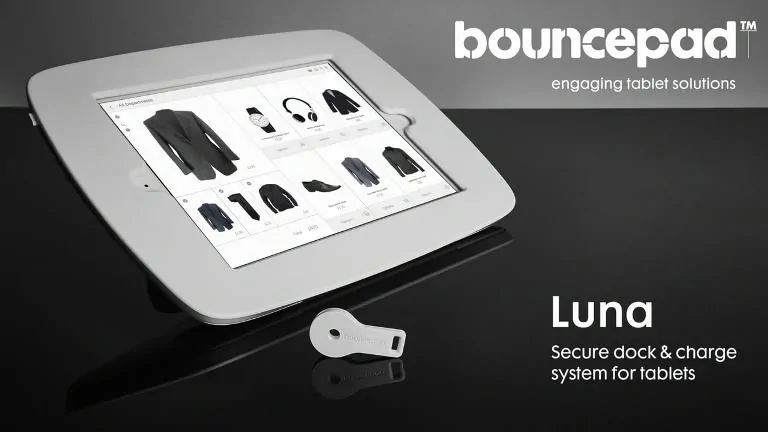 With years of industry insight and customer feedback, Bouncepad wanted to develop a secure product that would take tablets from fixed-to-mobile in seconds. Bouncepad chose ByteSnap Design to assist them with electronics design as the consultancy has extensive embedded expertise – as well as experience of microcontrollers, USBs and servo drives in complex projects. The Luna has since been rolled out in the UK at well-known fashion and home retailers.
Challenge: Design a premium, elegant yet secure, dock 'n' charge tablet system
Key requirements included:
Functionality with multiple power supplies
Ability for tablet system to operate as an iBeacon
Cradles capable of accepting RFID tags
Servo and EMC testing
The Luna presented a high level of design challenges and opportunities.
Whilst the original Bouncepad product range is designed for a variety of static installations, Luna needed to securely take tablets from fixed-to-mobile in an instant. The product also needed to keep tablets powered up and ready for use throughout the day.
Both electronics and software development services were necessary to help realise a product that was both simple to operate, but elegant in design.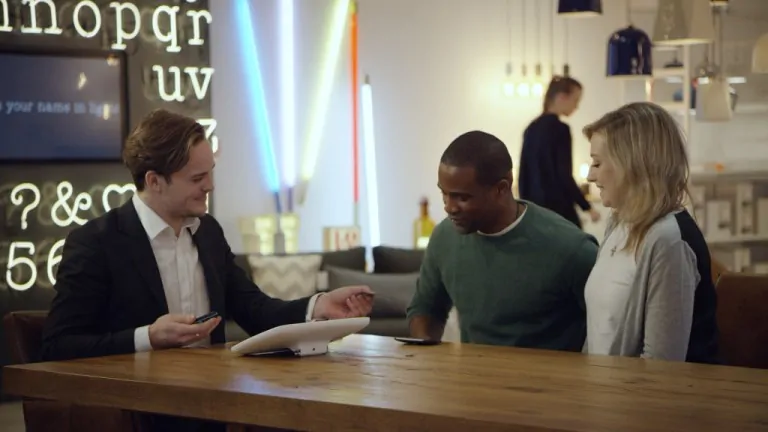 Solution
ByteSnap worked with Bouncepad on various stages of product development. Project milestones included:
RFID design and authentication
Incorporation of low energy module
Testing of servos and EMC testing
RFID Design
One area of the project which needed particular consideration was the RFID design.
To give Luna the security and fluidity it needed to take tablets from fixed-to-mobile, Bouncepad decided to use RFID authentication for key access and management. This would allow authorised users to unlock and remove Luna from its dock instantly.
Different RFID options were assessed and identified, before creating a novel, encrypted solution.
Luna's dock was designed to automatically lock once the case was placed back inside after use – the stainless steel mounting plates keep the tablet locked-down securely, whilst the swiveling cradles allow for user-friendly content display and sharing.
The final product boasts key features of:
RFID case unlocking
Automatic locking dock
Seamless tablet charging
Data and audio pass through
Exposed home button and camera
Concealed cabling
Benefits
Bouncepad has successfully launched the Luna secure tablet dock n charge system, which keeps pace with customers, switching from fixed to handheld with an effortless tap.
ByteSnap's multi-disciplinary experience – including low power hardware design and software development — was an important aspect of the project for Bouncepad.
ByteSnap has supported Bouncepad's goal in bringing smart shopping to brick-and-mortar stores by allowing people to digitally engage with physical products. The Luna is set to revolutionize the retail industry; giving shoppers a unique browsing experience on the High Street.
Using ByteSnap has enabled Bouncepad to launch this flexible product into the retail sector, in addition to the following benefits:
access to electronics consultants who understood the problem and were passionate and engaged
senior technical engineers available throughout the project