ByteSnap in UK First at National Electronics Week
The ByteSnap Design team would like to thank all delegates who visited our stand at National Electronics Week 2012 – who also got to witness a UK-first at the trade show.
ByteSnap Design demonstrated the first-ever ZigBee Smart Energy module to combine metering and control in a single, low power platform.
The Smart Energy module – the ZMM-01 – helps accelerate time to market thanks to three key features: lower power, faster deployment and trouble-free compliance with wireless standards. The module is suited to distributed control and monitoring systems, such as electric vehicle charging, street lighting control and HVAC control.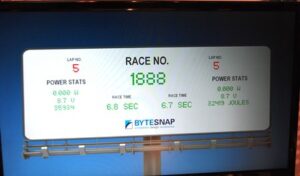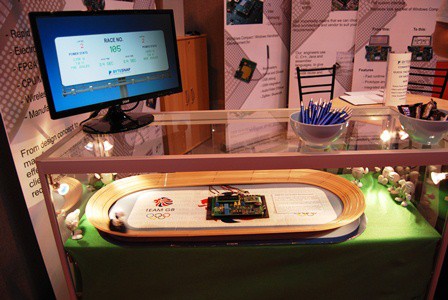 The module was on show at National Electronics Week measuring power consumption and controlling the micro-Scalextric bicycles via a ZigBee Pro wireless network. A user interface – generated by our own SnapUI user interface development framework – was deployed to show dynamic power usage of the two riders. As it turns out, the riders completed a total of over 1800 laps during the show!
National Electronics Week (NEW)

Many of the world's most iconic electronic devices have been designed, developed and/or prototyped in the United Kingdom. Consequently, the UK's electronics industry is recognised globally as one of the leading markets for quality and reliability.
NEW 2012 is part of one of the UK's biggest manufacturing trade shows; it is run concurrently with seven other expos featuring around a thousand exhibitors across 37,000 sqm of space. This approach helps maintain a high quality of delegates and consolidates National Electronics Week as a key event for Britain's embedded electronics industry.

National Electronics Week was created in 2007 – with the first show held at Earls Court in 2008 – and has gone from strength to strength ever since with thousands of visitors and exhibitors in attendance.
NEW covers the spectrum of electronic industry sectors from design to final manufacture, and includes:
Wireless
Test
Measurement
Instrumentation
Power supplies
Embedded
Assembly
Power electronics
Components
Inspection
Automation & Robotics
Rapid manufacturing
Rapid prototyping
CAD/CAM
Sensors
Contract manufacturing
Rapid manufacturing
Live production
Training