ByteSnap Among International Innovators at Global IoT Conference
ByteSnap will be demonstrating its flagship graphic user interface development framework, SnapUI, at an international IoT showcase in the US.
Directors Dunstan Power and Graeme Wintle are exhibiting at the Digi International 2019 Global IoT Conference at Minneapolis, Minnesota on June 5th-6th.
SnapUI allows graphic designers to edit an application's UI independently from the core of the application itself – helping to reduce development time and improve project efficiency.
"We'll be displaying the latest of our graphical user interface framework on the DIGI application processors across the range, from the 6UL, through the CC6 to the new ConectCore 8X Modules" says our Director Graeme Wintle. "We are very pleased to be working with DIGI on their upcoming i.MX8X modules, which will allow accelerated time-to-market for our customers.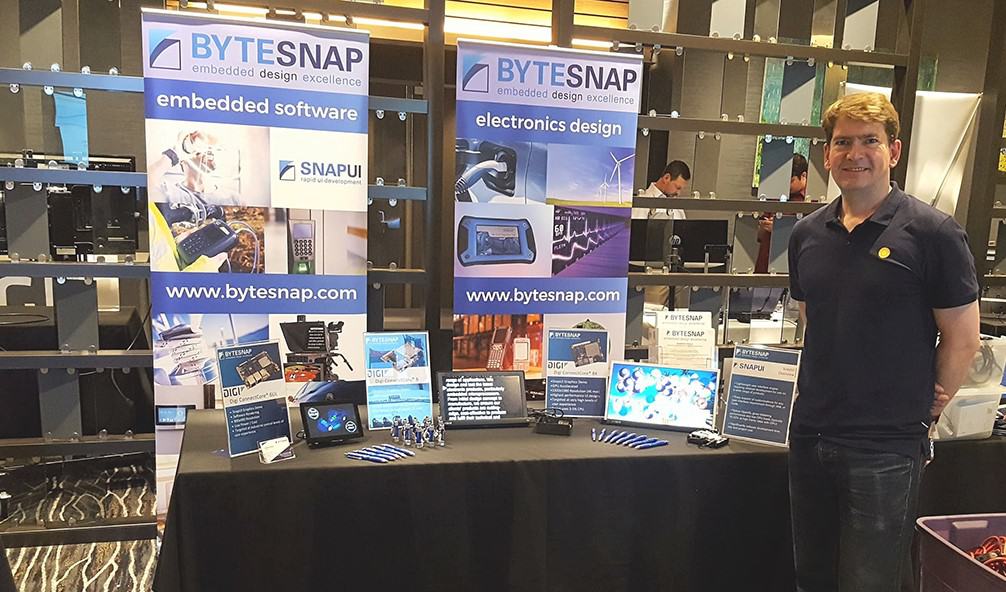 Graeme with the SnapUI demos at Digi's Global IoT Conference in Minneapolis
"We can really hit the ground running for our clients with the new 8X modules," added Graeme, "as we've months of proven experience developing at the forefront of this tech."
Digi International is a global leader in providing business and mission-critical IoT connectivity products and solutions. Digi supports its customers in creating next-generation connected products and solutions to deploy, monitor and manage critical communications infrastructures and compliance standards in demanding environments – with high levels of security, reliability and performance.
Digi Global IoT Conference: connecting the world's smart community
"We've held IoT conferences in Europe for the last 10-15 years. But we moved it to Minneapolis last year so it could become a more global event – inviting customers and partners – to look at how IoT is evolving," says Paul Norbury, Director Sales EMEA (Embedded & RF) at Digi International.
"We've got keynote speakers from both industry and academia to talk to delegates about where IoT is going as it's a massive subject; to explain IoT in depth and also where they perceive its future direction, so that people can get different perspectives on the IoT industry."
"There's an IoT arena at the conference where customers and partners can display their latest tech and innovation built with Digi technology products."
ByteSnap have been invited to exhibit their designs at the conference and also take part in a hardware development Q + A Forum.
"Digi invited ByteSnap to the Global IoT Conference as I believe ByteSnap are an excellent design facility on both hardware and software," added Paul.
"They are an NXP-approved design house and Digi use all NXP products within their embedded portfolio."
How can ByteSnap help you today?
From start-ups to blue chips, ByteSnap's embedded systems software developers are enabling companies to stay a step ahead by providing them with bespoke solutions. Maintain your competitive edge – contact us today and let your business be among them!