ByteSnap ports and manages LTK testing for Hoeft & Wessel Skeye Dart Windows Mobile platform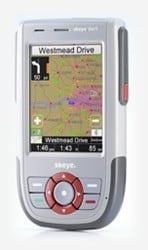 ByteSnap Design has announced that it has completed a project to successfully port the rugged mobile terminal skeye.dart to Windows Mobile 6.5. The project included managing Microsoft 'Logo Test Kit' (LTK) testing – allowing the German manufacturer Hoeft & Wessel to display the Made for Windows Mobile Logo on their product.
Porting a device to Windows Mobile requires a highly specialised skill set and very few companies worldwide are able to undertake this work. Hoeft & Wessel selected ByteSnap Design for the porting work for two reasons: its ability to respond flexibly to requirements and its long track record in Windows Mobile and Windows CE product and software development. ByteSnap Design built the Windows Mobile 6.5 version of skeye.dart from scratch, based on a Marvell Windows Mobile reference kit, without access to the original Windows CE source code.
The move to Windows Mobile gave Hoeft & Wessel's skeye.dart platform access to Windows Mobile applications and mobile phone functions – increasing the flexibility and reach of the platform. In selecting a specialist mobile design and development consultancy to carry out the port, Hoeft & Wessel recognised that although the necessary work had similarities to a 'standard' Windows CE development at the OS level, Windows Mobile is much more demanding from a product development and deployment perspective.
Unlike Windows CE, where companies may release any product they deem fit to market, Windows Mobile products are required to undergo a rigorous series of software and hardware tests (LTK testing) before being approved by Microsoft. The actual LTK testing itself is owned, managed and carried out by Microsoft (or one of its approved testing partners) and the development tools required to prepare a product for LTK testing are typically only provided to larger companies.
"ByteSnap Design's experience with the Windows Mobile and LTK tools establishes the company as one of a very small community of Windows Mobile developers who have successfully taken a product through LTK testing," said Graeme Wintle, Director, ByteSnap Design.
Wintle continued: "Our team has been developing with Windows Mobile for years. There is very little information generally available on passing LTK testing. In contrast to Windows CE, access to the development tools is limited to a small community and the constraints of NDAs mean that the there is little public discussion about design and development issues. The experience we've built up at ByteSnap Design means we are well placed to help clients put their products through LTK testing".
-Ends –
Notes to Editors
About ByteSnap Design (www.bytesnap.co.uk)
ByteSnap Design is a specialist in innovative embedded systems development encompassing hardware and software design. ByteSnap Design has an international client list. ByteSnap Design is a Windows Embedded Silver Partner.
The consultancy also has experience of electronic circuit design, microcontroller design, Linux and embedded software development, designing hardware products from PDAs to smart meters with multiple software projects such as developing Windows CE BSPs to signal processing applications.
The award-winning team was recognised by its peers at the 2013 British Engineering Excellence Awards, beating stiff competition to receive the Consultancy of the Year accolade. ByteSnap was also 2011 Design Team of the Year at the Elektra European Electronics Industry Awards.
For more media information including images, contact Jaspal Sahota, at Vitis PR, on 0121 242 8048 and jas@vitispr.com
About Hoeft & Wessel
In Europe, in the field of research and development Hoeft & Wessel is one of the leading enterprises according to the EU Industrial R&D Investment Scoreboard and a well-known producer of ticketing systems for public transport and mobile terminals for data capture in the retail and logistics sector. The British
subsidiary Metric is one of the largest providers of car park terminals on an international scale.
Hoeft & Wessel is now called METRIC Group.
Need to outsource your electronics or software product design? Let's talk
ByteSnap's engineers have developed numerous connected devices for a range of applications, and therefore are well-placed to assist with your project. Get in touch so we can help accelerate your project to market