Electric vehicle charging post design
A fleet of 300 electric vehicles (EVs) is transporting athletes and officials between venues during the 2012 London Olympic Games. The charging posts used by the fleet will be among the busiest electric vehicle charging posts in Europe during the event and reliability was a key requirement. ChargePoint Services asked ByteSnap to develop new electronics and software for the GE Energy DuraStation charging posts that LOCOG (London Organising Committee of the Olympic Games) had selected.
The original electric vehicle charging post design used a standalone PC to authorise EV charging; to provide connectivity with ChargePoint's central management system, ByteSnap designed a Windows Embedded Compact-based board to replace the PC, adding metering and remote management features via GPRS backhaul. ChargePoint's central management system monitors the charging posts and provides control and billing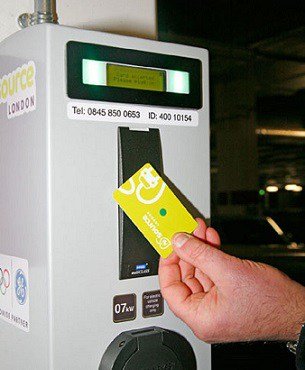 services. The management system sends a 'whitelist' of authorised vehicles to each post daily and, even if the mobile network fails, the in-post control board can verify an EV's status and authorise charging.
Bytesnap Design made a number of design decisions to ensure flexibility and reduce costs, for example, the charging posts' control system uses Windows Embedded Compact rather than a microcontroller to ensure flexibility and future-proofing.
A TX25 module from Direct Insight and ByteSnap's own ZMM-01 metering module reduced cost and development time, enabling ByteSnap to deliver the charging posts on time and ready for pre-Games trials. Using Windows Embedded Compact also enabled ByteSnap to accommodate functional enhancements requests quickly.
Over 100 posts have been installed in London and ByteSnap already has significant orders for more units.
For appointments to discuss electronic design requirements, or for more information on ByteSnap's ZigBee smart energy module or SnapUI tool, contact Dunstan Power via info [at] bytesnap [dot] co [dot] uk.
-Ends –
Notes to Editors
Read the full case study about electric vehicle charging posts.
About ByteSnap Design (www.bytesnap.co.uk)
ByteSnap Design is a specialist in innovative embedded systems development encompassing hardware and software design. ByteSnap Design has an international client list and won European Design Team of the Year 2011 in the Elektra awards. ByteSnap Design is a Zigbee Alliance member and Windows Embedded Silver Partner.
As well as electric vehicle charging post design, the consultancy is also experienced in electronic circuit design, microcontroller design, Linux and embedded software development, designing hardware products from PDAs to smart meters with multiple software projects such as developing Windows CE BSPs to signal processing applications.
The award-winning team was recognised by its peers at the 2013 British Engineering Excellence Awards, beating stiff competition to receive the Consultancy of the Year accolade. ByteSnap was also 2011 Design Team of the Year in the Elektra European Electronics Industry Awards.
For more media information including images, contact Jaspal Sahota, at Vitis PR, on 0121 242 8048 and jas@vitispr.com