SnapUI and Windows CE Power New Generation of Intrinsically Safe Gas Analysers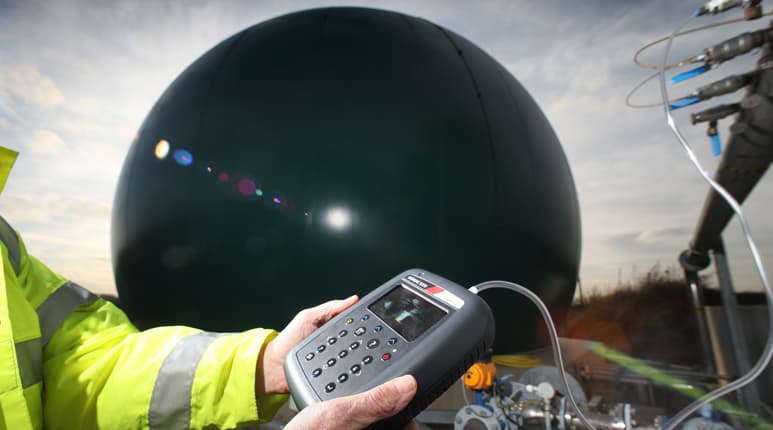 ByteSnap Design's software and hardware is the first to bring Windows CE to gas analysers approved for Zone 0 environments where flammable gasses are highly likely to be present.
ByteSnap Design Ltd and Geotech have announced an industry first for commercially available, intrinsically safe electronic devices. The new 5000 series of landfill and biogas analysers, are the first gas analysers approved for Zone 0 (the most hazardous gas or vapour) environments that incorporate many of the features commonly associated with smartphones and PDAs, making gas measurement and analysis simpler, safer and faster than before.
Steve Earp, Project Manager at Geotech said, "With ByteSnap Design's help we have developed a gas analyser that is a generation ahead of the competition. Not only can it take readings in under ten seconds, it combines GPS, Bluetooth, an accelerometer, compass and a colour screen. It even operates in temperatures from -10 to +50 degrees Celsius (14-122 degrees Fahrenheit). Customers tell us there is nothing like it on the market. "We've found the 5000 series' ease of use to be a killer feature, for example, local councils taking gas monitoring at landfill sites back in-house remark upon how quickly staff get up and running with it. Moreover, the built in GPS makes routing simple and means no more time wasted looking for the right monitoring point."
Intrinsically safe electrical devices need to be safe to use in explosive atmospheres. These devices have typically been built on dedicated hardware and software with little or no opportunity to include rich functionality such as colour screens, wireless connectivity and multi-language support.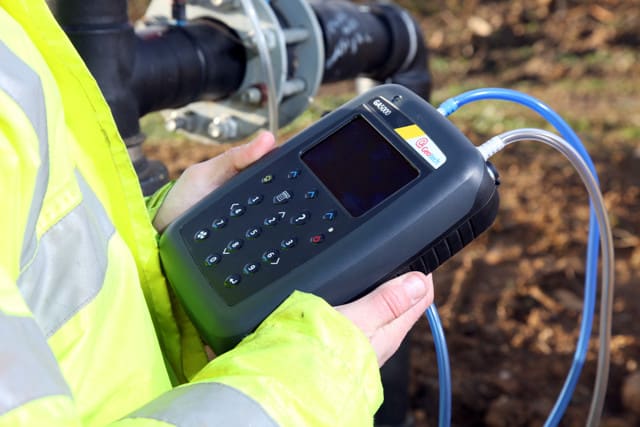 Graeme Wintle, Director, ByteSnap Design commented, "At ByteSnap Design, our expertise spans both embedded hardware and embedded software development.
"This combination of skills was crucial in enabling us to deliver a portable gas analyser for hazardous environments that consumes fewer than 800 Milliwatts (mW) under heavy load and boots up rapidly. This is the first time that ByteSnap Design's user interface development framework SnapUI and Windows CE have been used in an intrinsically safe device that is approved for Zone 0 environments."
Graeme added, "On portable devices like the 5000 series every Milliwatt of power counts and we used SnapUI because it is fast, flexible and power efficient."
The flexibility of SnapUI has helped Geotech to target export markets. Steve Earp continued, "SnapUI lets us support multiple languages without changing the software, this helps us reach international markets more quickly and without undertaking extra software development. The use of SnapUI also ensures we have a flexible platform for future products enabling us to target exciting new applications."
SnapUI is a high-performance cross-platform user interface development tool aimed at the Windows CE platform. It separates user interface design from the application code, into an XML configuration file, which enables the user interface to be developed on a desktop in parallel with embedded system development. Multi-language support is built-in and new translations can be added to the XML file without re-coding the application.
The 5000 series of portable landfill gas and biogas analysers come with a variety of user-driven improvements and can monitor gases across a range of applications including: landfill gas, biogas and gas extraction.
-Ends –
Notes to Editors
Zone 0 is used to classify the most hazardous gas or vapour environments, such as the area above a liquid in a tank or drum. Zone 0 environments are those where flammable gasses are highly likely to be present or may be present for long periods, such as in the space above a liquid in a tank or drum.
About ByteSnap Design (www.bytesnap.co.uk)
ByteSnap Design is a specialist in innovative embedded systems development encompassing hardware and software design. ByteSnap Design has an international client list and won European Design Team of the Year 2011 in the Elektra awards. ByteSnap Design is a Zigbee Alliance member and Windows Embedded Silver Partner.
The consultancy also has experience of electronic circuit design, microcontroller design, Linux and embedded software development, designing hardware products from PDAs to smart meters with multiple software projects such as developing Windows CE BSPs to signal processing applications.
The award-winning team was recognised by its peers at the 2013 British Engineering Excellence Awards, beating stiff competition to receive the Consultancy of the Year accolade. ByteSnap was also 2011 Design Team of the Year in the Elektra European Electronics Industry Awards.
For more media information including images, contact Jaspal Sahota, at Vitis PR, on 0121 242 8048 and jas@vitispr.com
About Geotech (www.geotechuk.com)
Geotech is the market-leading manufacturer and supplier of portable and fixed landfill gas and biogas analysers. Gas analysis is only part of a full range of environmental monitoring equipment that Geotech can supply, including QED AP pumps for product removal and level control. Around the world Geotech gas analysers are rapidly becoming even more important with growing focus on renewable energy from gas produced in anaerobic digestion and landfill gas.
How can ByteSnap help you today?
From start-ups to blue chips, ByteSnap's electronic design engineers are enabling companies to stay a step ahead by providing them with bespoke solutions. Maintain your competitive edge – contact us today and let your business be among them!