International Women in Engineering Day 2022: Tips for Industry Success for Women and Girls
Did you know women make up a mere 12% of the UK's engineering pool?
Or that just 2% of all professional engineers worldwide are women of colour?
June 23rd is International Women in Engineering Day which spotlights career opportunities for women – and also celebrates female professionals in the industry…
Magda is an Electronics Hardware Engineer and Embedded Systems Engineer at here ByteSnap Design.
…like Magda, for instance.
Read our Q and A to get to know her and also to discover her top tips for women and girls aspiring to get into, and progress in, the world of engineering…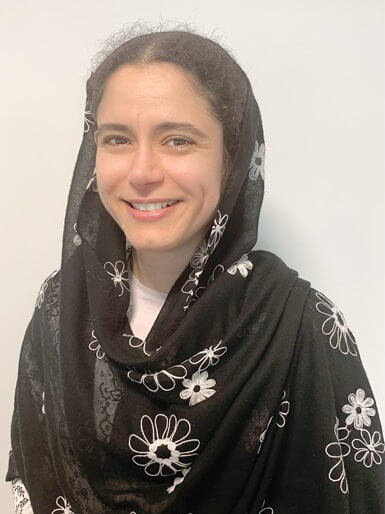 ByteSnap Blog: Magda, Happy International Women in Engineering Day! Tell us a bit more about yourself:
Magda: Thanks! Ok, so I was born and raised in Sudan. In terms of my education, I graduated with a BSc in Engineering from the University of Khartoum, in the Sudanese capital. I also have a doctorate in Biomedical Engineering from the University of Oxford.
And… green is my favourite colour!
BB: How did you get into electronics initially?
Magda: I've always been interested in how things work and from there I was drawn to electronics and software. I did like astronomy as a child as well, but I saw a clearer career path with electronics, so I decided to go for an Electronics Engineering degree instead.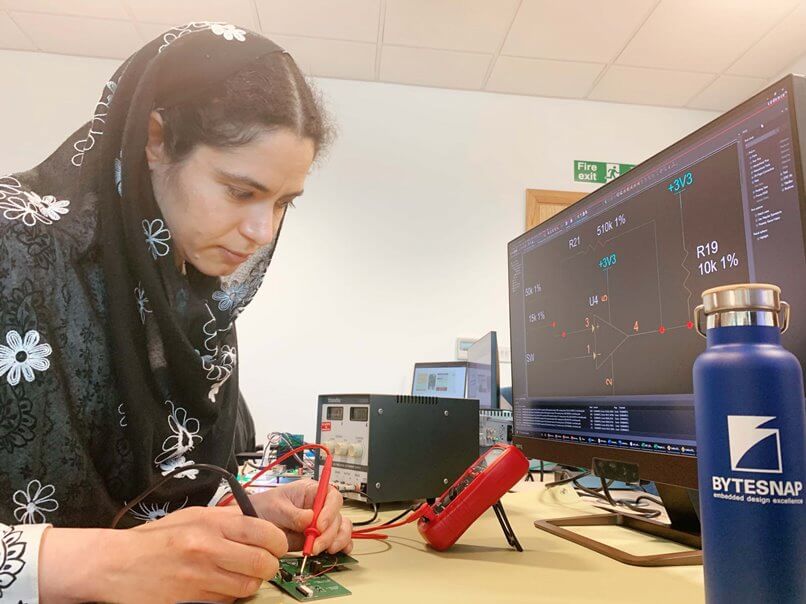 BB: What do you do at ByteSnap as a hardware and software engineer?
Magda: I mainly create circuit designs for embedded products and I also manage firmware tests and updates.
Although a typical day includes circuit design, component selection and testing, I've also done FPGA programming and building mechanical setup as well, which I really enjoyed!
I like the challenge of meeting customer requirements and also the variety of the work at ByteSnap.
As you know, it's International Women in Engineering Day. What are your top tips for women looking to progress in engineering and also to girls considering a career as an engineer?
Magda: Tip 1 – Do your due diligence
It's important to research what is required to successfully pursue an engineering career.
From what I have seen, some reasons girls in the UK don't chose an engineering profession is a that they believe the misconception that they have to be exceptional at maths to succeed; or they're put off by the "hard hat" image often associated with engineering.
I would encourage girls to explore and get to know the extensive range of engineering sectors and careers – chemical, aeronautical, structural, electronics, civil are just a few.
This will give greater clarity of the many types of opportunities in engineering.
Tip 2: Widen your skillset
It's important to have a wide skill set that allows you to adapt to changes in the industry.
Keeping up to date with innovative technologies and learning new skills prepares you for future developments.
For example, being a hardware engineer doesn't mean that you don't do any coding.
It's important to have software skills in order to be a well-rounded engineer.
Tip 3: Explore resources set up for women in engineering
It is worth looking at some organisations and groups that are specifically setup to help women in engineering. Women Who Code, for instance, is a community that aims to support women to learn software programming and excel in technology careers.
The Women in Engineering Society is a network that can help with mentoring and promotes the uptake of engineering among female students.
Tip 4: Contribute…open source is a good option
Often, universities will make proprietary software packages available to students. But graduation, license fees need to be paid in order to access those tools.
It's a good idea to build experience of alternatives that are more widely used in industry, to avoid this problem.
Go open source.
Using open-source platforms and software is also a great opportunity to contribute to a wide network of computer scientists and engineers.
Currently, there are far fewer female open-source contributors than male.
Get involved with open-source projects and platforms early on in your career. This can help you build the necessary skills to participate in open-source society; and it will help you with networking while establishing your profile in the community.
Take a look into initiatives aimed at encouraging women in open-source projects – like the Debian Woman project.
Tip 5: Don't be put off by any misconceptions around engineering
There are still myths and misunderstanding swirling around regarding women working in engineering.
Typical ones I've come across are that it's physically demanding work, or perhaps the environment is rough.
Engineering spans a diverse range of skills and specialisms, from software engineering, that is entirely computer based, for example – to petroleum engineering which might require field work in offshore locations.
Here in the UK, the percentage of female engineers is low considering how advanced the country is terms of gender equality policies. This is unlikely to improve without action, particularly after the pandemic where female STEM students are reporting that it is affecting their future career prospects.
Anything else you'd like to add?
Well, one day, I hope to create online resources on embedded systems in Arabic. Material that could be used as a starting point for students in Sudan and other Arabic-speaking countries.
The idea is help to introduce more young people to the hardware and software platforms used to build embedded devices.
I will definitely find a way to make this happen!
How can ByteSnap help you today?
From start-ups to blue chips, ByteSnap's embedded systems software developers are enabling companies to stay a step ahead by providing them with bespoke solutions. Maintain your competitive edge – contact us today and let your business be among them!