SnapUI High Performance GUI Engine at Embedded World 2018
Watch SnapUI's smooth performance on the NXP i.MX7 ULP processor:
SnapUI in action on the NXP Stand at Embedded World 2018: the largest embedded systems trade show on the globe

Nuremberg, Germany: SnapUI demo up and running amid last minute preparations at Embedded World 2018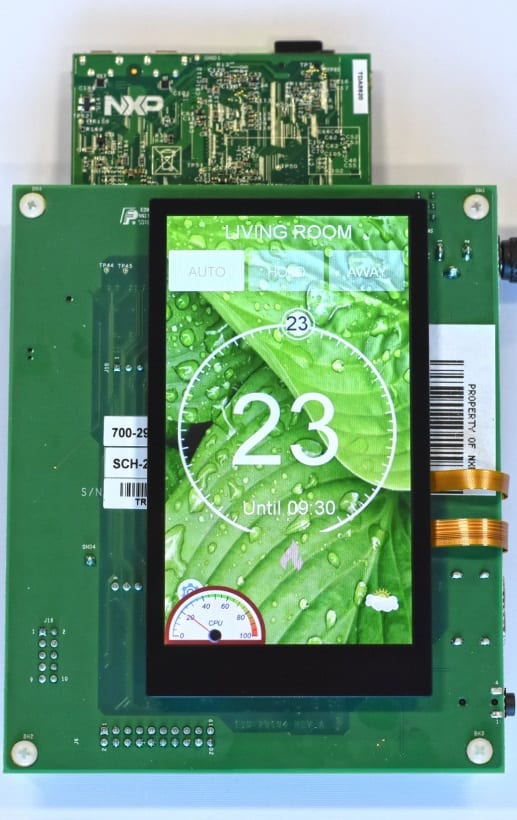 ByteSnap is excited to be exhibiting SnapUI – our low power, high performance GUI engine – running on NXP's new i.MX7 ULP processor at the world's biggest embedded systems trade fair…
SnapUI is on display at Embedded World 2018 in Nuremberg, Germany 27th February – 1st March.
The demonstration uses the SnapUI framework to render using the OpenGL accelerated GPU of the i.MX7 ULP.
All framework graphics features are accelerated and efficiency is the primary focus, performance when running the demo at a blistering 60 fps is just 20% CPU load.
SnapUI can render content at different frames per second to best suit the power requirements of the system and the content being shown.
The demo shows a number of features such as alpha blending performance, rotational controls, animations and much more in an IoT security context.
See www.bytesnap.co.uk/snapui to find out about SnapUI's capabilities and applications
As an NXP Approved Engineering Consultant, ByteSnap's demo will be featured on the NXP stand, Booth 4A-220, at Nuremberg Exhibition Centre.
30,000 visitors are expected to attend the Embedded World 2018 Exhibition & Conference for the latest trends, designs, products and know-how emerging from the embedded systems community.
Around 1.000 exhibitors will cover virtually all aspects of embedded technology at the show – including construction elements, modules and complete systems; to operating systems and software; hardware and software tools and more.
Click on the banner below – discover more about Embedded World 2018: