Public Charging Stations and the UK EV Charging Network
EV Sales in June
2020 has brought a raft of new electric car models and a surge in electric vehicle sales. In spite of the recent fall in overall UK new car registrations, June saw electrical vehicles, EVs and hybrids, outselling the still freefalling Diesel Market (24K vs 23K) [1].
But with this increase in sales, it leaves the question: is our charging infrastructure ready for the EV revolution?
Image Source: SMMT UK New Car Registrations June 2020 [1]
EV technology is developing rapidly. As a result, the latest electric cars offer a range of 200 miles on a full charge, but the majority of EVs on our roads have a range closer to 80 miles. For example, the popular Nissan LEAF has a 24 kWh battery and a range of exactly this [2].
Most new EV driver's purchase a second-hand car with a small battery. For the majority of the year that does the job. However, if travelling a little further than the daily routine, getting home can very much depend on the charging network encountered.
Public charging station problems on a long journey
I recently made a round trip from Birmingham to York. This journey should have entailed five hours of driving and four, half-hour, charging stops.
Unfortunately, this was not the case.
A quick search showed that the chargers at the first two service areas were out of order. With my 22kWh car, I calculated that I could just about make it from the third nearest service.
The beginning of my trip started well. I approached my first scheduled stop with more range left than expected, so held on for the next service area. 81 miles in, I arrived with 14 miles range left in my EV. So imagine my horror when I found that neither of the two charging points had a connector that would fit my car! Sadly, this issue is not uncommon, with charging connectors varying across EV models.[3]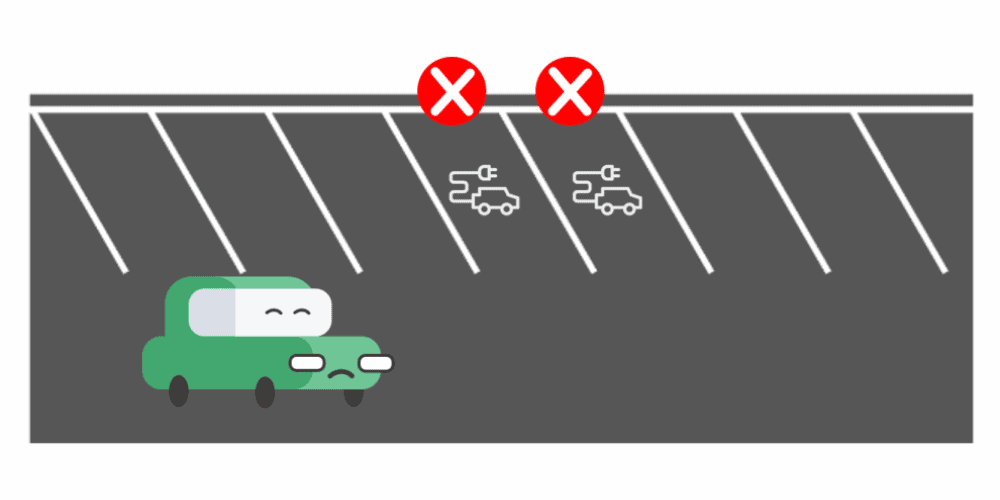 To resolve matters, I did a quick search and concluded that the south bound services had what I needed. However, upon arrival I was disappointed to discover that the compatible connector was out of order; thwarted yet again in my attempt to charge my car.
Like many EV drivers, I use Zap Map to locate alternative charging points [4]. At this point, I could see there was a charger at a restaurant not too far away, so I headed over there.
For the fourth time, I encountered a problem: a defunct charge point. I called customer services and listened to a 2-minute recorded message before being put on hold. When I eventually got through, they said they had no comms to the machine and couldn't fix it remotely.
As a last resort before calling a breakdown truck, I found a nearby village hall that had a charge point. My attempt to use their rapid charger went something like this: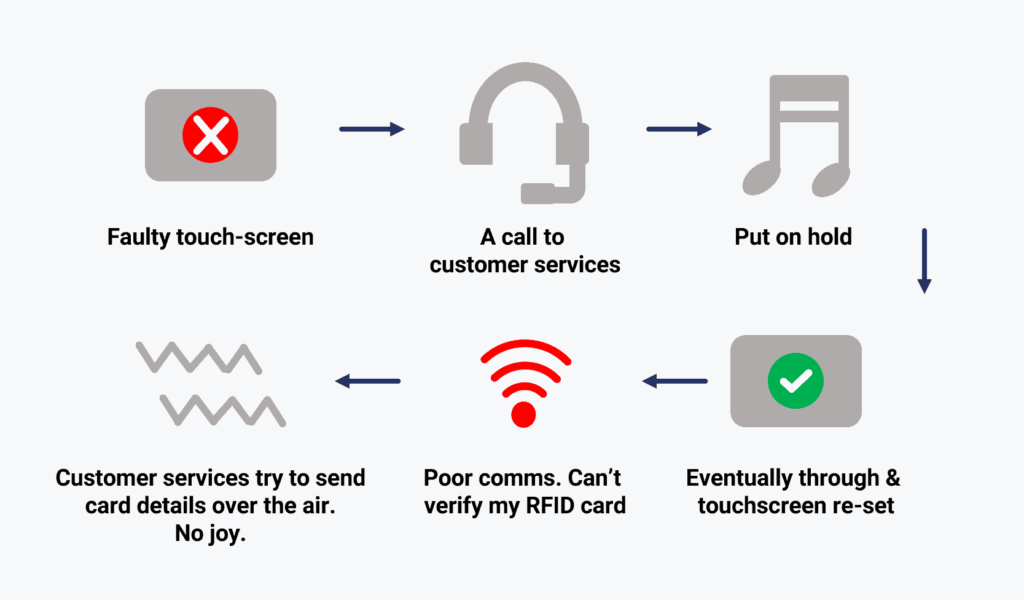 At this point, the caretaker turned up and announced I had to leave for lock-up. I must have looked defeated because she took pity on me, and allowed one last try.
I scanned my card and – phew, success! It finally worked.
15 minutes later, there was enough charge to get to the last services before York, which had three rapid chargers compatible with my car. Hooray!
Alas – I celebrated too soon. With the lack of sufficient 4G signal or Wi-Fi, I had to try the app 4 times before it eventually started the machine. This is a weakness in remote machines that don't accept an RFID card or contactless payment.
All charged up I headed to York – an hour and 10 minutes behind schedule.
Range issues on the return journey
The return trip was even longer due to roadwork diversions. At the same time, the temperature plummeted – and with it, the range of my car. While both hot and cold temperatures affect range, colder climates have a larger impact. And of course, in the UK it's rare to be able to drive at the efficiency sweet-spot of 21.5 C (70 F) [5].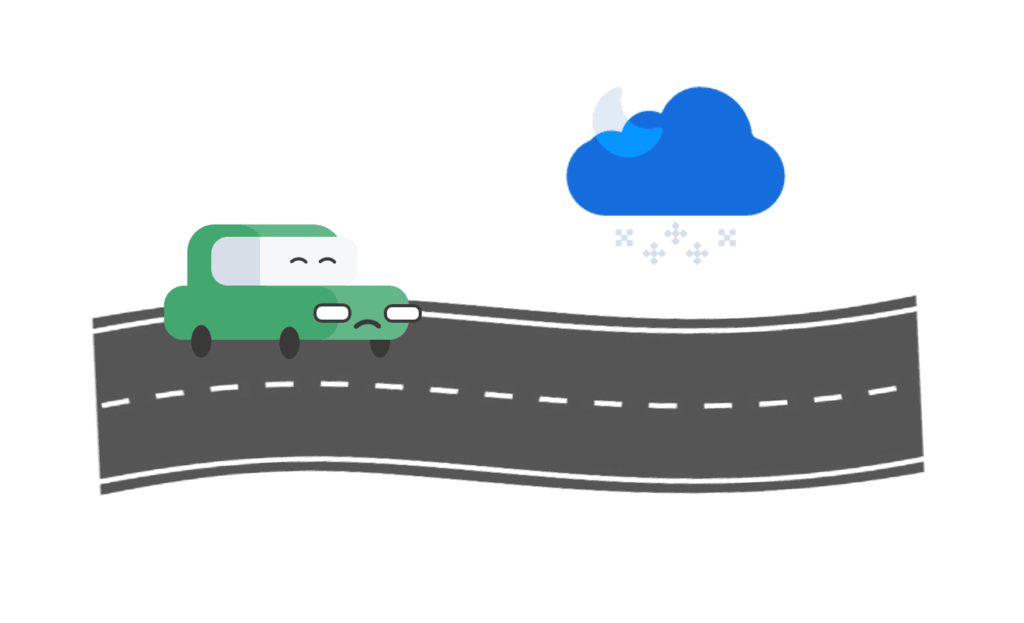 To make matters worse, at my final stop the EV charger cut out at 90%. I was 60 miles from home and the car reported 70 miles of range remaining.
10 miles into the final journey leg, my range had dropped by 20 miles. Added to that, there were no open charging points. So I did the only thing I could – turned the heater down and slowed my speed.
At 1:30 am I arrived home – two and a half hours later than anticipated.
The need for a better EV charging network
Part of the EV charging infrastructure problem is that all too often there is only a single charger at a location – two at most.
If they have the wrong connector, or the sole charger is faulty, you cannot charge. This common occurrence is the equivalent of a service station only having one fuel pump; one that only sells unleaded petrol when you have a diesel car. We ideally need more frequently placed public chargers, with the three types of EV connectors at each.
While the number of public charging points in the UK has increased by 31% over the last year [6], this has not kept up with EV sales, which tripled during the same period. This is a stark comparison with EV charging infrastructure leaders such as Norway, which has established a network of at least two multi-standard fast charging stations every 50 km, covering nearly all main roads. [7]
Norway's success can largely be attributed to the volume of government EV incentives, that date back to 1989, and the well-organised charging network growth that has accompanied these substantial packages.
If the UK is going to see more electric vehicles on our roads, the EV charging network has some very serious catching up to do. And this, most likely, will start with more robust government infrastructure incentive programmes and more innovative smart charge point design.
Written by Colin Green, EV Team Member
Further Reading
[1] https://www.smmt.co.uk/2020/07/uk-new-car-market-down-a-third-as-tentative-restart-reveals-subdued-demand/
[2] https://pod-point.com/guides/driver/buying-second-hand-ev#:~:text=For%20example%2C%20if%20you%20get,BEVs%20for%20your%20longer%20journeys.
[3] https://evcharging.enelx.com/uk/about/news/blog/552-ev-charging-connector-types
[5] https://www.geotab.com/blog/ev-range/
[6] https://www.zap-map.com/statistics/
[7] https://elbil.no/english/norwegian-ev-policy/#:~:text=By%202017%20the%20Norwegian%20Government,all%20main%20roads%20in%20Norway.
How can ByteSnap help you today?
From start-ups to blue chips, ByteSnap's embedded systems software developers are enabling companies to stay a step ahead by providing them with bespoke solutions. Maintain your competitive edge – contact us today and let your business be among them!