Low Power ZigBee Smart Energy Module Targets Metering and Control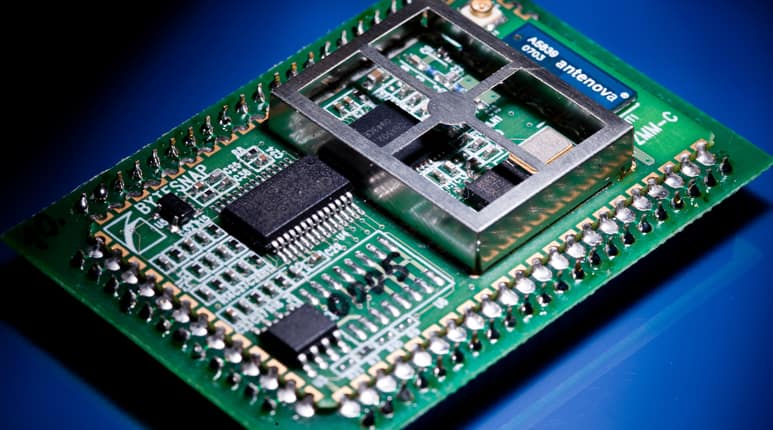 The industry's first ever ZigBee® Certified Smart Energy compliant module to combine three key features: lower power, faster deployment and trouble-free compliance with wireless standards. (Patent Pending)


ByteSnap Design Ltd, (www.bytesnap.co.uk), a specialist in innovative embedded hardware and software design, announces the release of the ZMM-01, the industry's first ever ZigBee Smart Energy module to combine the key features of metering and control in a single, low power platform.  The ZMM-01 also provides a Real Time Clock, accurate up to 2ppm.
By implementing the ZigBee Smart Energy (SE) protocol, the ZMM-01 is able to use the command-set specified by the standard to control energy equipment within the home or office. Wirelessly connecting to other devices through the ZigBee mesh network, the ZMM-01 forms a fundamental part of the smart home, helping to lower power usage by implementing building management protocols.
The ZMM-01 is well suited to many types of distributed control and monitoring systems, for example: wireless charging for electric vehicles, street lighting control, data centre power monitoring and building air-conditioning control.
The key to the ZMM-01's comprehensive capabilities is ByteSnap Design's expertise in combining hardware and software design to develop low power devices. The module is based on the market-leading Ember EM357; a ZigBee radio-on-a-chip which integrates a fully compliant IEEE 802.15.4/ZigBee wireless transceiver with the powerful ARM Cortex-M3 microcontroller, able to run the ZigBee Smart Energy protocol and application code while still consuming just 30mA to transmit.
Closely coupled to this is the Cirrus Logic CS5467 Analogue Front End (AFE); developed specifically for energy measurement applications. The AFE incorporates on-chip functions for measuring voltage and current to calculate active, reactive and apparent power/energy with Energy Linearity: ±0.1% of Reading over 1000:1 Dynamic Range.
The ZMM-01 simplifies working with ZigBee SE – implementing a complete ZigBee SE smart meter now only requires the addition of a shunt resistor and current transformer (CT). The resulting device can form the heart of a meter that meets IEC EN62053-21 class 1 or 62053-23 class 2.
The ZMM-01 offers a Smart Energy solution that is ready for system integration. The ZDM-01 Development Kit complements the ZMM-01 Smart Energy module, providing a complete platform for module evaluation and code development.
Dunstan Power, Director, ByteSnap Design, commented: "Energy management is expected to help drive the M2M market into the mainstream over the next two years. Legislation is being implemented across Europe and other regions, creating demand for solutions in this emerging market. The ZMM-01 offers OEMs and ODMs the opportunity to accelerate their entry in to this fast-moving marketplace with a pre-certified and fully compliant turn-key solution."
-Ends –
Notes to Editors
About ByteSnap Design (www.bytesnap.co.uk)
ByteSnap Design is a specialist in innovative embedded systems development encompassing hardware and software design. ByteSnap Design has an international client list and won European Design Team of the Year 2011 in the Elektra awards. ByteSnap Design is a Zigbee Alliance member and Windows Embedded Silver Partner.
The consultancy also has experience of electronic circuit design, microcontroller design, Linux and embedded software development, designing hardware products from PDAs to smart meters with multiple software projects such as developing Windows CE BSPs to signal processing applications.
The award-winning team was recognised by its peers at the 2013 British Engineering Excellence Awards, beating stiff competition to receive the Consultancy of the Year accolade. ByteSnap was also 2011 Design Team of the Year in the Elektra European Electronics Industry Awards.
For more media information including images, contact Jaspal Sahota, at Vitis PR, on 0121 242 8048 and jas@vitispr.com
About ZigBee: control your world
ZigBee offers green and global wireless standards connecting the widest range of devices to work together intelligently and help you control your world. The ZigBee Alliance is an open, non-profit association of approximately 400 organizations driving development of innovative, reliable and easy-to-use ZigBee standards. The Alliance promotes worldwide adoption of ZigBee as the leading wirelessly networked, sensing and control standard for use in consumer, commercial and industrial areas. For more information, visit: www.ZigBee.org.