ByteSnap co-founder Graeme Wintle is one of the country's most experienced Microsoft Windows CE developers.
A software engineer graduate from Newcastle University, Graeme quickly distinguished himself in software development at Nokia, GST Technology and Intrinsyc.
His cutting-edge design work has been instrumental in establishing ByteSnap Design at the forefront of embedded system design. He is the inventor of powerful user interface development framework, SnapUI.
Here, Graeme tells us why he is inspired by the man on the moon, and how calculated risks, transparency and excellence in customer service are the pillars to business growth.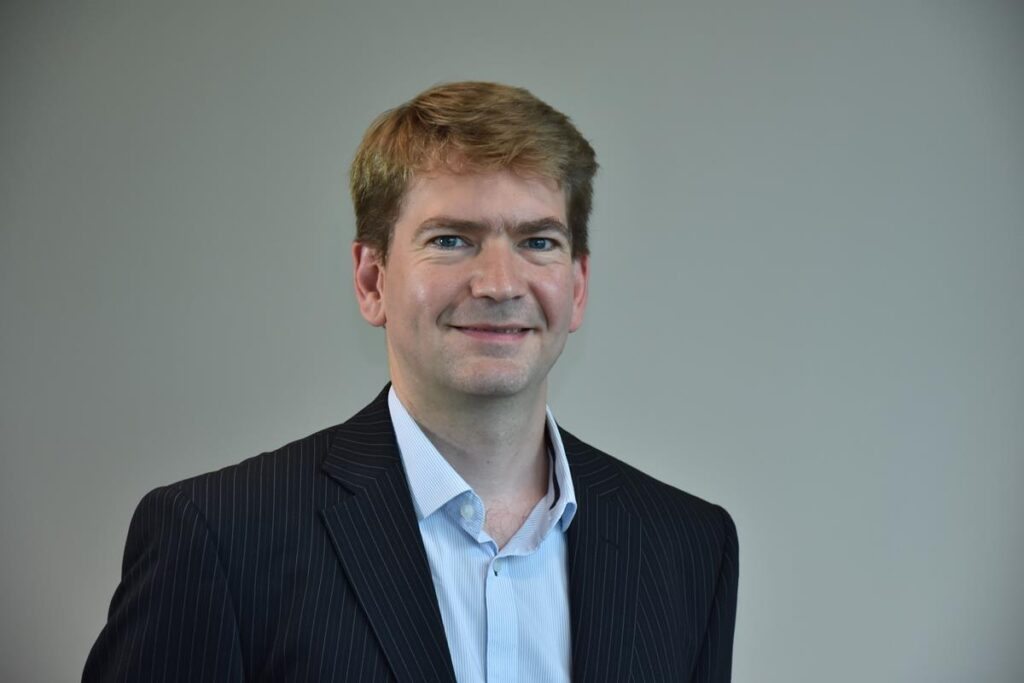 Question 1: What do you currently do at ByteSnap?
ByteSnap is an embedded design consultancy focused on both hardware and software design, founded by Dunstan Power and myself in 2008. ByteSnap has had many clients from start-ups to blue chip companies. We design the next-generation products from small battery IoT sensors to multi-processor, mains-powered systems.
My background is embedded software development. I've been a software engineer for over 25 years – involving many, many projects at a design level – and I still love to find technical solutions for customers. My day-to-day work is mainly operational and technical project management. I still wear a number of other hats in the business to make sure we run smoothly for our customers and employees.
Question 2: What was the inspiration behind your business?
I worked with Dunstan back in the 1990's at an electronics design consultancy. We were both involved at a very technical level delivering solutions to clients. I have always been at a customer-facing level, but the opportunity arose when the business I worked at closed in 2007.
Dunstan and I wanted to use our skills to start our own electronics engineering consultancy. Dunstan had, at this time, already been treading down this route with his own company. We decided to join forces and from that came ByteSnap, where we wanted to focus on projects that included both hardware and software elements. We wanted to support customers on their projects from Schematic and PCB design, through to firmware/OS and application software.
I'll also let you in on a secret about the company name…
The remit was that given a 30 second pitch to a customer we wanted to ensure that a Google search from that conversation would find us. Too many companies at the time had technical names which were littered around the internet; but "Byte" and "Snap", weren't really being used together – so we did! Thus, ByteSnap was born – with Byte representing technology & engineering and Snap meaning accelerated design and development.
Question 3: Who do you admire?
Ah…now, that's a hard one; there are many people that I admire for driving something forward with an extra-ordinary passion, people with vision or those striving forward against all the odds. Someone like Neil Armstrong, who changed the course of history as the first man on the moon.
I find people like him inspiring; you see where the focus of so many years can be towards just a single short time in their lives; the risks are great, but through training, teamwork and amazing strength of will, they overcome and achieve something that no one has done before and, sometimes, few will do again.
Question 4: Looking back, is there anything you would have done differently?
It's easy to feel that things have gone well that and our growth could have been quicker or more risks taken. I have worked with so many amazing engineers and companies in my career – some of which have done very well, others, less well. Sometimes the quality of the product, the marketing, the engineering or just luck aren't aligned.
ByteSnap has always benefited from our, sometimes, overcautious experience in a very positive way. It underpins what we do.
I would say if I had to choose one thing it would be to have expanded our offices earlier – you can never have enough space to cover in electronics or computer screens!
Question 5: What defines your way of doing business?
I always say to clients that we will do things how they ask – as, of course, excellence in customer experience and satisfaction are paramount and I'm keen to get straight in and lend our experience to the mix.
My ideal customer is one where we compliment and extend their skills, working with them to form a team that can achieve much more than a sum of the parts.
When you hire ByteSnap, you don't get a person with skills in one area, you get an engineer with a team beside him or her to draw upon. I believe that is why we get repeat business again and again (over 80% of our order book).
Question 6: What advice would you give an entrepreneur starting out?
Whether it's that first staff member you hire, or the move from your home office to a rented office property, plan very carefully for those pivotal moments in your business venture; without them, you won't grow.
Take the time to seek out and hire fantastic staff; you can't take on the world on your own without a great team alongside you!
Take calculated risks – otherwise, you will always be behind the curve or just be dormant.
Honesty with both yourself and others is also way up there, sometimes you have hard decisions with staff, customers or suppliers. Being transparent is always the best approach. People appreciate it, and it forms a stronger professional bond for the future.
Need custom software development?
From start-ups to blue chips, ByteSnap's embedded systems software developers are enabling companies to stay a step ahead by providing them with bespoke solutions. Maintain your competitive edge – contact us today and let your business be among them!