How SMEs contribute to the EV & EV charging sectors
Q&A with Dunstan Power, Director of ByteSnap Design
The fast-moving EV and EV charging infrastructure markets are constantly expanding as government targets for greener transport systems draw closer.
In this Q & A session, ByteSnap co-founder and Director Dunstan Power examines the impact and role of SMEs and start-ups in the development of EVs/charging infrastructure, as well as opportunities and challenges in the burgeoning sector.
How are SMEs and start-ups contributing to the development of EVs/infrastructure?
Currently, the electric vehicle (EV) sector is dominated by automakers with the deep pockets necessary for vehicle design and manufacture. For instance, Dyson is a large company that was involved in the EV space; however, despite committing £2 billion, they had to pull out of that market.
Where does this leave SMEs?
Moving from petrol to electric-powered vehicles is a paradigm shift; this involves not only changing the vehicle, but also the entire infrastructure around how we drive and support it.
There are several business opportunities around EVs, from car sharing and finding parking spaces to chargers and grid infrastructure. EVs are a load on the grid but can also add back to it via Vehicle-to-Grid (V2G), and Vehicle-to-Building (V2B) charging. By combining smart chargers with V2G technology, energy stored in electric vehicles can be redistributed to the grid during peak hours. This should help ease some of the burden to the grid and also potentially earn EV owners money when their car is idle.
There are further opportunities for SMEs and start-ups to innovate around petrol stations, too. These will become EV charging stations requiring entertainment provision for drivers waiting for their cars to charge.
Are they changing the way in which the industry develops new products?
SMEs drive innovation more than large companies. However, SMEs are unlikely to be innovating in relation to the vehicles, as that's very costly and best left to the auto manufacturers. Tesla is an exceptional new entrant to the market.
Where SMEs are driving innovation is in EV infrastructure. Grid connection development is mostly down to SMEs as they excel in technology related to energy storage and recycling. For example, advances in V2G are driven by SMEs as opposed to automotive firms and larger companies.
However, acquisition of SMEs is happening as large companies recognise the opportunity in EV charging infrastructure.
What is the impact of SMEs and start-ups on the EV sector?
SMEs are undoubtedly more innovative and agile than the automotive firms. Although innovative, car giants have very long, expensive design cycles compared to SMEs.
While the automotive firms are producing safety critical products, focused around reliability, SMEs are in a better position to fill the gaps. For example, creating the cool, new products that will drive changes, and which the Tier 1s will acquire and implement. Volkswagen, for example, launched charging business Elli to offer intelligent electricity tariffs, Wallboxes, charging points and an IT-based energy management system; these products were probably designed in conjunction with or by SMEs.
This is important, as without charging infrastructure the EV cars being developed would be useless. Large companies don't appear to consider – or be interested in – the likes of energy storage solutions around load balanced chargers, but they are important to keep the grid up while EVs are being charged.
There is also an impact on energy companies here, with Octopus and OVO innovating around new and changeable tariffs based on billing rates. Like the automotive industry, smaller energy businesses are innovating more around the EV space than their larger counterparts.
What opportunities do you see for SMEs in this space?
New market areas are ideal spaces for SMEs as they are agile, take risks and can fail quickly. The automotive industry is changing, from cars powered by polluting explosive chemicals to EVs. This move has been driven by local energy/fuel considerations as EVs have no emissions, thus heralding a cleaner and greener new world view.
There are many business opportunities for SMEs to develop ideas for improvements to make charging more efficient, such as in V2G and at-home charging. There are also innovation opportunities around payment systems.
This creates several openings for small businesses, and is having an effect on EV infrastructure as a whole, including smart homes and cities, so opportunities are not just tied to the vehicle.
How are smaller companies connecting with established ones?
Acquisitions of SME charging companies are already taking place. Despite this, I believe there is still a challenge in connecting larger firms to smaller companies. There needs to be more collaboration, rather than large companies simply acquiring the SME, in order to claim the innovation as their own.
Larger companies tend to do their own thing, however there are government schemes aimed at pulling SMEs and automotive firms together. Nevertheless, a gap still remains; there's an opportunity for SMEs to use accelerator models, government Innovate UK schemes, or even open idea competitions, to target large companies with their ideas.
Where is innovation taking place; how are they engaging not only with tier one companies but universities and consultancies like ByteSnap?
Large companies are innovating to introduce EVs, so we can't really say that innovation is only down to SMEs.
We recently worked as part of a consortium on VIGIL, a project that was part-funded through a technology drive by the British Government to encourage low emission transport solutions. The project saw us develop V2G charge-posts to manage EV / building energy dispatch and ensure distribution network limits are not exceeded.
Following our success on that project, and in response to increasing demand for our expertise in EV charging projects over the last 12 months, we have launched a new division called Versinetic, which is totally focused on developing for EV charging infrastructure.
Versinetic stands for Versatile Intelligent Kinetic Energy, and consists of the experienced engineering team behind the electronics for charge posts used at the London Olympics and the communications controller for the VIGIL project.
There are many opportunities for companies to use our long-standing history in the EV space to provide alternatives to off-the-shelf EV charging solutions that are saturating the market, but often fall short.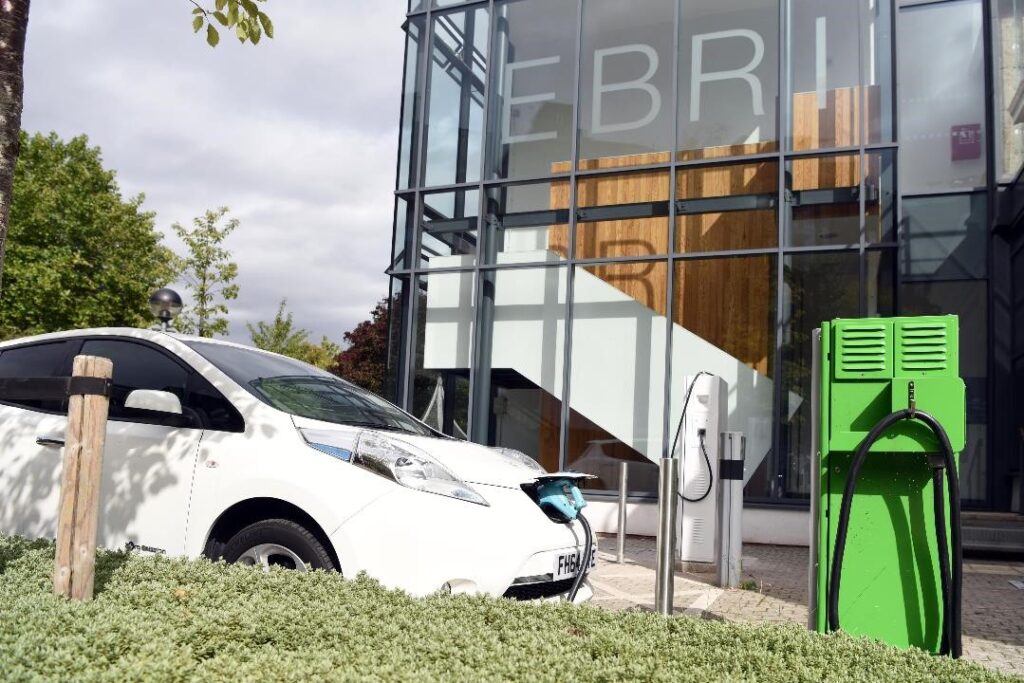 Award-winning VIGIL V2G system at Aston University
How will the rapid growth in SMEs designing and developing tech for EVs impact the overall supply chain?
It's hard to get into an automotive manufacturing supply chain. SMEs designing and developing technology for EVs such as charging infrastructure do not really fit into the automotive supply chain as they predominantly use industrial and commercial parts.
SMEs may gain entry to non-safety critical supply chains as there are lower standards, providing an easier "in".
There is a growing shift from petrol-defined supply chains – and cars with lots of mechanical parts on them – to electronic supply chains. Electric cars are fundamentally computers on wheels.. An EV has 10% of the moving parts of a petrol vehicle, therefore, component manufacturers stand to benefit from rising EV sales.
It also means, however, that scaling of supply is necessary in many areas – highlighted by the crunch on ceramic capacitors last year, which was blamed on EVs.
SMEs are more vulnerable to component supply issues than large companies as they don't have the same buying power. This necessitates careful design to avoid being caught in a queue for a key part that can potentially hold up production.
Can you tell us more about projects ByteSnap has been involved with that include SMEs and start-ups?
We have been designing EV charging technology since the 2012 London Olympics, have worked with the Open Charge Point Protocol (OCPP) and were an integral part of the innovative Government-backed V2G VIGIL consortium. All the VIGIL consortium firms are start-ups and SMEs.
The VIGIL V2G project won the Innovation in V2G Award – ahead of 8 other finalists – at this year's Electric Vehicle Innovation & Excellence Awards (EVIEs). In addition, ByteSnap was also shortlisted in the Green Infrastructure Project of the Year category at the Business Green Leaders Awards 2020.
We developed the smart metering technology used in electric vehicle charging posts at the 2012 London Olympic Games. General Electric (GE)'s electrical infrastructure had chargers, but they didn't meet any of the required specs. Although technically capable, GE couldn't move as quickly as was needed, so turned to an SME, ChargePoint Services, to fix it.
ChargePoint Services approached us at ByteSnap to develop new electronics and software for GE charging posts, ready for pre-Olympics testing. Reliability was critical, as the charging posts were among the most heavily used in Europe during the Olympics, powering the fleet transporting athletes and officials between venues.
There is a large market for off-road, on-street parking chargers and commercial charging, so as part of our new Versinetic division we offer modular Charging Blox. Charging Blox are Versinetic's products and services configured to precisely match the customer's charging point requirements.
[/wp-content/uploads/2020/12/Versinetic-Log-Charger-400×300.jpeg"]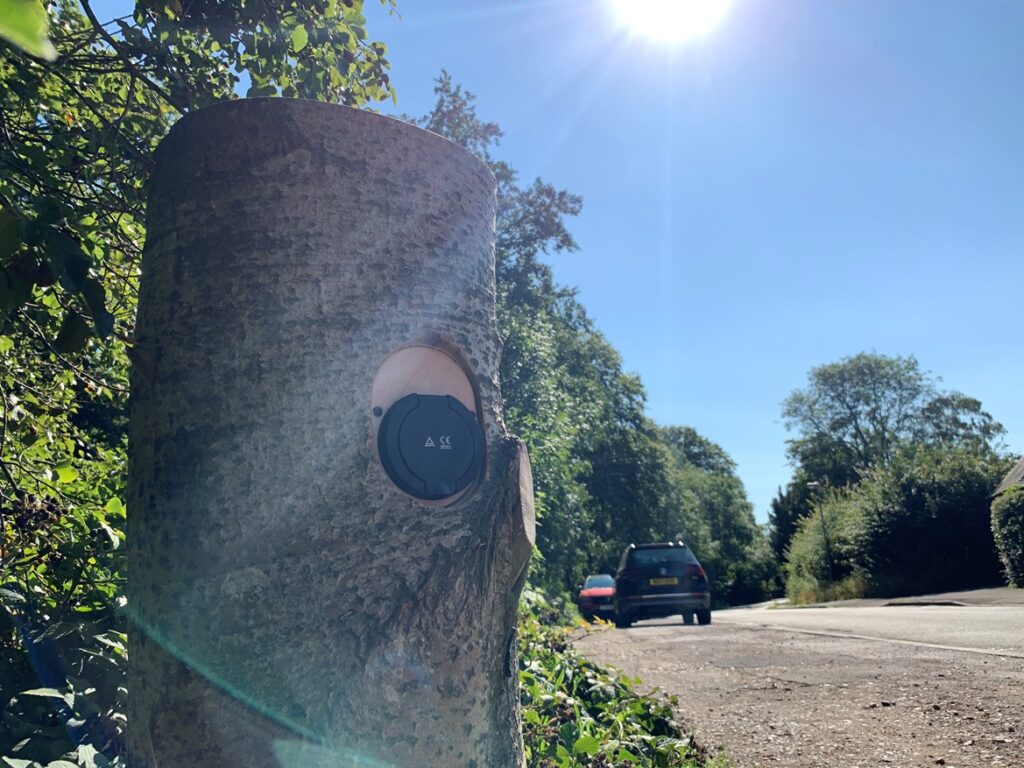 Versinetic's Tree Trunk EV Charger
How can ByteSnap help you today?
From start-ups to blue chips, ByteSnap's embedded systems software developers & electronic design engineers are enabling companies to stay a step ahead by providing them with bespoke solutions. Maintain your competitive edge – contact us today and let your business be among them!