The EV Smart Charging rEVolution – Joy of Charging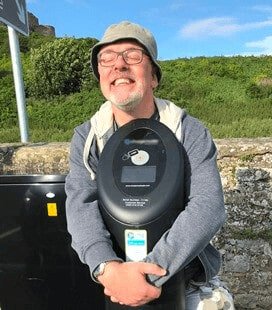 About The EV Smart Charging rEVolution Column
I'm Julian Skidmore, a senior software engineer at ByteSnap Design and helping to develop our EV – electric vehicle – charging solutions.
We're a progressive embedded consultancy with an interest in EVs going back to 2012 when we designed and supplied EV chargers for the London Olympics. I've had a 2016 Renault Zoe EV since 2017 and over 20% of us who drive into work use a BEV [Battery Electric Vehicle].
In this monthly series, we'll be covering EV innovations and our experiences with EVs, particularly from the perspective of EV charging and the charging infrastructure, which we believe is the other half of the EV revolution.
This month we're looking into…
Because we're used to ICE vehicles, we forget that in fact their introduction involved a massive cultural shift for global society with not only geopolitical impacts such as economic crises or wars, but also day to day expectations that affect our behaviour patterns[1]. The same is true for the EV revolution and the world of charging.
But first, the industry is moving so quickly, we need to recap on what's happened in the UK in the past month alone.
Overtaking in the BEV lane
Between 2010 and 2019, the UK's BEV market grew at an impressive average of 89% per year, but in 2019 it grew by an astonishing 144% (though some of this was due to government changes on EV grants at the expense of PHEVs) while UK vehicle registrations as a whole dropped by 2.4%[2]. However, new figures show that January 2020 BEV registrations grew by 204% against a backdrop of a fall of 7.3% for the UK as a whole[3].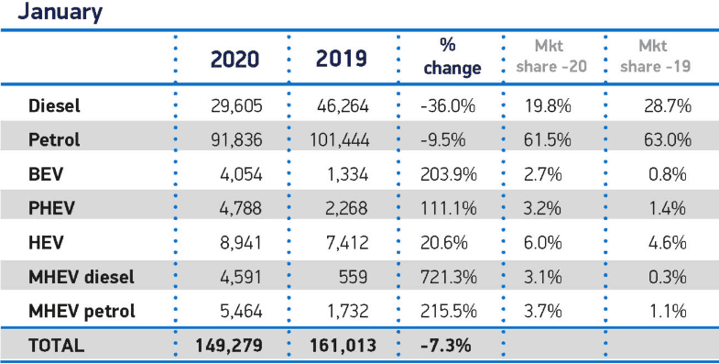 Even though this is just the first month (and traditionally not the strongest) it is more evidence that we are now entering the steeper part of the EV adoption curve. It puts more pressure on the UK infrastructure to install cheap AC chargers, yet only 557 public chargers were installed last month: 1/16th of the number of Plug-in registrations[4].
A major limitation on EV adoption (as well as access to chargers) is EV cost. The UK government has announced that company bought EVs won't have to pay tax[5]. This is likely to significantly incentivise EV take up in the UK (because a large proportion of cars are company cars) as well as encouraging the growth of AC chargers (because companies will want to provide at-work charging facilities). It will help the second-hand market as companies start to shed their older generation EVs, and in a few years' time, the EVs they'll be buying as a result of this initiative. But it also means that the EV sales we are seeing right now are depressed due to companies wanting to wait until April before buying new EVs.
In July 2017 the UK government announced that they were to ban the sales of pure petrol or diesel vehicles from 2040[6]. This held until the 4th of Feb 2020, when the government announced it would bring this forward to 2035[7] and then surprisingly, just over 1 week later suggested it might bring that date forward to 2032[8].
At one level, this shows that the rEVolution is overtaking the political landscape, but at another level it's about politics starting to catch up with the projected development of the EV market which, by some forecasts says they will become more competitive than fossil fuel vehicles by the mid-2020s[9]. In other words, the government is still planning to ban new ICE vehicles about 3 to 7 years after they'll become obsolete.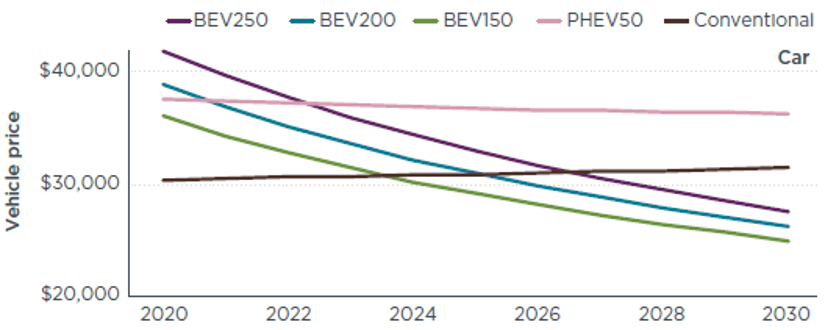 All this is to underline that the EV revolution is a social revolution as far-reaching as the transport revolution a century ago.
The Joy of EV Smart Charging
That's why I wanted to look into the joy of EV smart charging: what it means for us in this, still early phase and why it has the potential to shift our culture for the better.
100 years ago, average work journeys were about 3.6Km, taking 14 minutes[11], so long journeys were by train (or the newly motorised 20km/h Charabanc) and meant that a journey was an experience in its own right.
As fossil fuel cars started to dominate travel from the 1930s onwards, journeys became primarily a means to an end and thanks to long vehicle ranges, an endurance test where we have to be told to take breaks to prevent ourselves falling asleep at the wheel [12]:
Indefinite driving is now an expectation, so much so that it's quite high on many people's barriers to EV adoption, but getting used to taking more breaks, rather than expecting charging units to reach fantasy charging speeds, or expecting EV ranges to be 600+ miles, will be a good cultural change.
That's what my wife and I do. When we first had an EV, we saw en-route recharging as an inconvenience to put up with. Gradually we've decided to treat en-route charging an interest factor in itself. Sometimes this is fairly simple: it means a service station stop, perhaps chatting, reading a book or magazine; perhaps while enjoying a coffee that's not going to jolt and spill onto our laps. It's a relaxing hour or half-hour, where we recharge as the car charges.
It means, for example we travel to more service stations than we used to and get to appreciate them more. In addition, we never now need to stop at a service station, then get back into the car only to travel a hundred metres to (as they seem now) a smelly fuel station. It means we can value our surroundings more – for example Stafford services southbound has a beautiful pond/lake where there's plenty of wildlife.
More often, the Joy of charging means we get to visit places we wouldn't normally expect to go. So, we visit more hotels, because hotels have been pretty good at installing rapid charging points. In turn this means we end up seeing more of the surrounding area and enjoy better food when we stop off.
Sometimes, it means we get to discover charging posts that aren't yet on Zap-map: the blog photo is my delight at finding a fast charger outside Bamburgh castle in the North East (55.607523, -1.710029).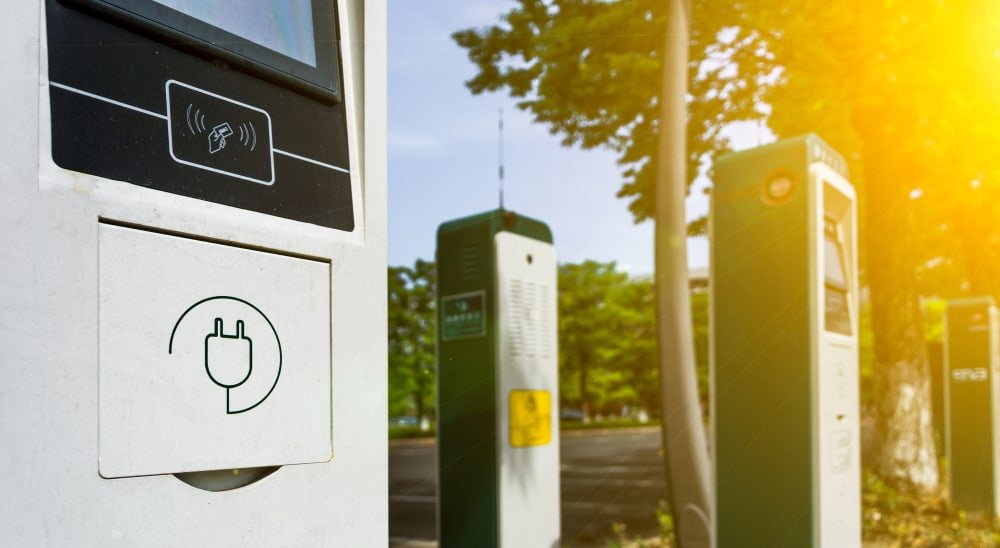 The best bit though has to be the people you meet at charging points, because they too are relaxing while a charge completes or (in the less common case) waiting for someone else to finish charging so they can charge. It's good to hear their charging anecdotes, whether that's the Mercedes PHEV owner who's planning to buy a Tesla model 3 ASAP (waiting times just 1 month!); or first generation Leaf owners who seem to love pushing their car all the way into limp mode with blasé abandon; or epic heroes who have travelled across Europe in their EV just to prove how viable it is.
And, because the whole EV revolution is still in its early adopter phase, we get to help out new EV owners with the charging process: explaining how if their Ecotricity app keeps returning errors, it's likely the charger is in free vend mode and they can just plug in; or how a bloke's shiny e-Tron can charge at 7x the rate of a Type 2 connection if they use CCS instead. Not so long ago, we were the people getting helped out too!
Even if, as I suspect, we'll get to 100% of new car registrations being EVs by 2025 to 2030[13]; only 8% to 12% of cars on the roads will be EVs; so these kinds of encounters will be the norm for around another decade and more: plenty of time to help instil the Joy of charging across a generation of car users.
Next Time on the EV Smart Charging rEVolution…
Next Month we find out how EV chargers are going to clean up our streets!
Further reading
[1] https://en.wikipedia.org/wiki/Effects_of_the_car_on_societies
[2] https://www.smmt.co.uk/2020/01/record-year-for-zero-emission-cars-fails-to-reboot-uk-market-as-sector-calls-for-supportive-policies-to-boost-uptake/
[3] https://www.smmt.co.uk/2020/02/january-ev-registrations-3/
[4] https://www.zap-map.com/statistics/
[5] https://www.fleetnews.co.uk/news/fleet-industry-news/2019/07/09/no-company-car-tax-on-electric-vehicles-says-government
[6] https://www.theguardian.com/politics/2017/jul/25/britain-to-ban-sale-of-all-diesel-and-petrol-cars-and-vans-from-2040
[7] https://www.bbc.co.uk/news/science-environment-51366123
[8] https://www.bbc.co.uk/news/business-51474769
[9] https://insideevs.com/features/398257/video-seba-keynote-future-transportation-summarized/
[10] https://theicct.org/sites/default/files/publications/EV_cost_2020_2030_20190401.pdf
[11] https://books.google.co.uk/books?id=Wol8AgAAQBAJ&pg=PA62&lpg=PA62
[12] https://www.theguardian.com/healthcare-network/2016/jul/26/two-in-five-doctors-fallen-asleep-wheel-night-shift
[13] "By 2024–2025, EVs will outcompete on both features and price in pretty much every vehicle segment (except rocket ships)."
https://cleantechnica.com/2017/12/25/timeline-electric-vehicle-revolution-via-lower-battery-prices-supercharging-lower-battery-prices/
How can ByteSnap help you today?
From start-ups to blue chips, ByteSnap's embedded systems software developers are enabling companies to stay a step ahead by providing them with bespoke solutions. Maintain your competitive edge – contact us today and let your business be among them!